30+ Snow Crafts for Winter: Decorations, Hats, and More
From snowmen to snow globes, these easy winter crafts will turn your home into a winter wonderland!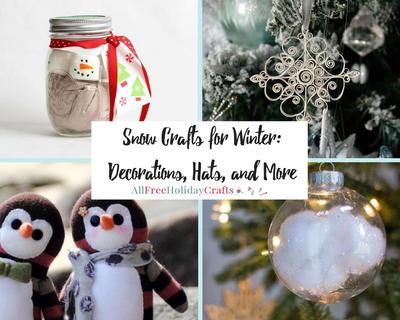 When the holidays are over, does your home look a little bare? If you want to keep your home decorated through the winter, then this collection of 30+ Snow Crafts for Winter: Decorations, Hats, and More will be just what you need! Featuring glittery snowflakes, easy snowmen crafts, snow-inspired designs, and even a few penguins and polar bears, these easy snow-themed crafts found on this page are fun to make and will keep boredom at bay during a big snowstorm, too. Everyone in your household will love trying out these ideas. What a fun way to make gifts and decorations!
 
Don't you love the snow? We sure do — it's pretty, fun, and makes everything sparkle. You can make the most of the inspiration winter offers and bring some twinkle into your home with a few snowy winter decorations. From garland to wreaths, the winter wonderland motif is a flawless one. Whether you're decorating your home to match the weather or simply love to try easy winter crafts, this collection of projects will keep your crafty bones in check! There's no hibernating this winter when you have plenty of fun winter crafts right at your fingertips!

If you love snowflake craft decorations, then you'll definitely want to check out the video below for the Icy Snowflake DIY Candle Holder!
Table of Contents
What was your favorite snow day activity as a kid?
Your Recently Viewed Projects