Red Heart Super Saver Jumbo Yarn Review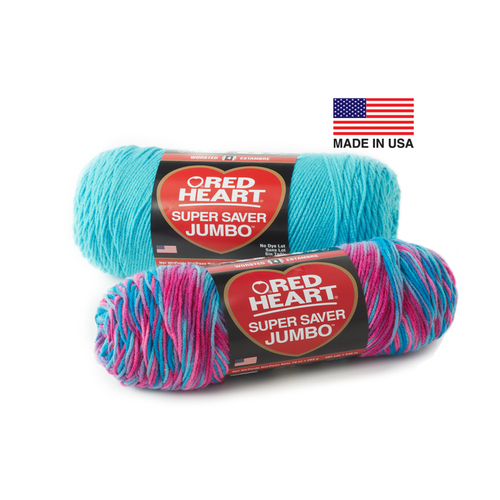 Red Heart Super Saver Jumbo Yarn Review
www.redheart.com
Reviewed by zzz Christine zzz Weiher, Editor, AllFreeHolidayCrafts.com

If you've seen one type of yarn you might think you've seen it all. Are you new to the yarn world? There are SO many different types of yarn out there it'll blow you away. From the different colors to the different textures and even the different weights, you most likely have not seen them all. And of course with each yarn company there are different yarn lines, so the possibilities truly are endless when it comes to picking out yarn for your next crochet pattern. Now most likely you've had the chance to work with Red Heart Yarn, but have you made anything with Super Saver Jumbo?


Red Heart Super Saver Jumbo is a worsted weight 100% acrylic yarn that comes in a 14 ounce skein of 744 yards. Instead of using multiple skeins of yarn now you can use just two skeins to make a crochet blanket! It's still the same Super Saver you know and love, but in a larger skein. Each Jumbo skein is the size of two regular skeins, so you'll have less ends to weave in.


What you'll like best about this yarn is not only that it's made in the U.S., but Red Heart has also committed to donating money to support the Red Cross of North America. 


With over 30 colors to choose from you won't know if you should pick solids, variegated colors or mix and match. If you're looking for something bold you'll enjoy colors like Amethyst, Burgundy, Perfect Pink or Paddy Green; if you're looking for variegated colors you might like Icelandic, Mirage or Wildflower. This yarn is great for larger projects like crochet sweaters, crochet afghans and anything requiring a large quantity of yarn. 


If you think you've seen it all and had the chance to play with it all then guess again. Try to get your hands on a skein of Red Heart Super Saver Jumbo; you won't even be able to hold it with one hand!
Your Recently Viewed Projects