Fiskars Cuts+More Scissors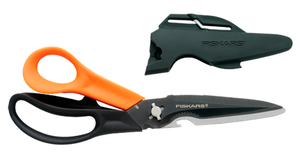 Fiskars Cuts+More™ Scissors
Gifted by Fiskars
www.fiskars.com
Reviewed by Molly Fletcher, Editor, AllFreeHolidayCrafts.com
Boy Scouts have pocketknives; crafters have Cuts+More™ Scissors. This multipurpose tool from Fiskars will quickly become your go-to for projects. Featuring precision-ground steel blades, these scissors can cut through an array of materials including twine, rope, and wire.
Designed with comfort in mind, Cuts+More™ Scissors have sculpted finger and thumb loops that also boost cutting control. Ideal for craft projects, these scissors will also serve you well in the garden or the garage. The power notch is great for cutting light rope, while the wire cutter gets the job done without damaging the blades. If cutting through materials like light screens dulls the blade over time, use Fiskars' innovative sheath to sharpen it in storage. In a nod to the Cuts+More™ emphasis on multifunction, this clever cover also includes a tape cutter.
One of the coolest features of Cuts+More™ Scissors is that the blade can be removed and used as a knife on objects that are difficult to manage. The pointed awl tip can pierce through cardboard, leather, and other materials. And did I mention the built-in bottle opener? This extraordinary tool is dishwasher safe and comes with a lifetime warranty. With that guarantee, feel free to take these scissors with you for any occasion from a laidback crafternoon to a weekend camping trip. One thing is for certain: when it comes to versatility, Cuts+More™ Scissors are a cut above.
Your Recently Viewed Projects