30 Snowflake Craft Ideas for Winter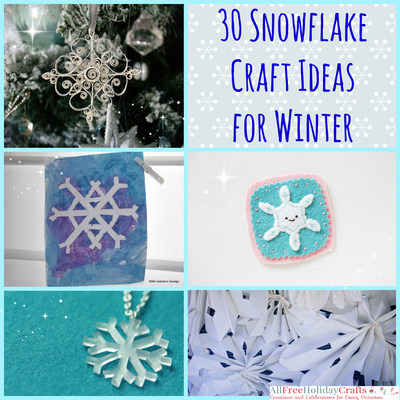 Are you searching for inspiration for winter crafts to make this year? If you answered yes, take a look at the 30 Snowflake Craft Ideas for Winter collection. Snowflakes are the perfect DIY winter decoration for every home. This craft collection encompasses all skill levels and is full of unique ideas on how to make snowflake. You will definitely find the snowflake crafts that you are looking for! Consider making snowflake decorations for your home using materials like wood, Mason jars, aluminum, and felt. If you want to make a shimmery blizzard in your house, check out all of our fabulous DIY paper snowflakes. Or, if you would rather make snowflake necklaces, earrings, and scarves, take a look at our wearable winter projects. Snowflake art for kids is always a great option during the winter months when your children are cooped up inside and looking for something to do. If you just cannot get enough of snowflake crafts this year, there is a bonus section with some surprising ways you can use snowflakes at the bottom of the list.
Table of Contents
What is your favorite winter activitiy? Tell us below!
Your Recently Viewed Projects