"How to Make Easter Crafts: 7 Cute Easter Craft Projects" eBook
By: Rachel Bernstein, Editor for AllFreeHolidayCrafts
How to Make Easter Crafts: 7 Cute Easter Craft Projects

Discover some of our best craft ideas for Easter in this free eBook. The "How to Make Easter Crafts: 7 Cute Easter Craft Projects" collection includes Easter basket ideas, Easter egg crafts, Easter wreath tutorials and more adorable easy to make Easter decorations. So if you're looking to get your creative juices flowing and celebrate Easter at the same time, the projects in this free, downloadable eBook are perfect for you. Keep reading to find out more of what's in store in this fun collection of Easter craft projects!

With the coming of spring, the change in the weather and Easter on the horizon, there's so much to look forward to, and one of those things for many of us is figuring out which craft projects for Easter we want to tackle this year. We know what a challenge it can be trying to weed through all of the great tutorials for Easter craft projects that are available on the Web and we wanted to make things a bit easier for you by putting together a collection of what we consider some of our cutest and most fun Easter crafts. We went through the entire catalogue of free Easter crafts available on our website and picked out our favorite projects to share with all of you.


The great thing about this free eBook is that all of your Easter craft projects will be together in one convenient place. Plus, they'll be there with their supply lists and step-by-step instructions so that you don't have to keep clicking back and forth to access what you need. This craft collection is available as a PDF download, which means you can easily print the Easter craft eBook for quick and easy reference. We know it can be tough to craft when you need access to a computer, which is why we created this free printable eBook for your crafting convenience.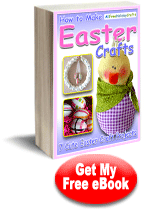 Download the How to Make Easter Crafts free eBook today!
How to Make Easter Crafts: 7 Cute Easter Craft Projects
Table of Contents
Don't Miss Our Other Free eBooks!
What's Inside This Free eBook
Easter Basket Ideas: Cute and Cozy Fabric Easter Basket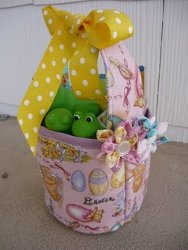 Easter baskets are one of the staples of the holiday; after all, it just wouldn't be Easter without an egg hunt. Whether you have a gaggle of little ones eager to seek out hidden eggs or are simply having an Easter brunch for your friends and family, you're going to need an Easter basket or two. The great thing about the creative Easter basket ideas included in this Easter craft projects eBook is they're both practical and cute, which means you can use them to hold your egg hunt treasures or you can display them as decoration in your home.

This Cute and Cozy Fabric Easter basket is a prime example of an Easter basket that's great for kids to carry around but also makes a wonderful addition to your Easter decorations. Choose fabrics to match your home decor or pick a print that's special to the kids in your life; you can easily personalize this fabric Easter basket to meet your needs!

If you're slightly daunted by the task of sewing Easter baskets, don't worry! The step-by-step instructions in this eBook will easily guide you through the process. And when you're finished, you'll be so proud of your completed Easter basket, you won't even remember being intimidated by the process. Plus, since fabric Easter baskets are some of the most durable of all homemade Easter baskets, you can rest assured that your creation will last for years to come.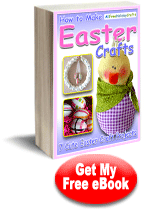 Download the How to Make Easter Crafts free eBook today!
Easter Egg Designs: Totally Cute Tissue Paper Eggs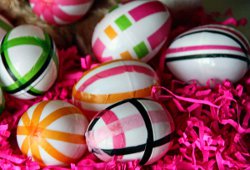 Aside from baskets, eggs might be the most iconic thing about Easter. As symbols of spring and new life, Easter eggs are a wonderful reminder of the importance of the holiday. Plus, decorating them is such a fun activity for families to do together and has become a tradition in many households. There are tons of interesting Easter egg decorating ideas, from dyeing them to crocheting or knitting them to making crafts using plastic eggs and more. So how does one choose which Easter egg design to go with? It all depends on what materials you like to use in your crafts, but the ideas in this Easter craft projects eBook should help provide some inspiration.

One of our favorite Easter egg designs has to be these Totally Cute Tissue Paper eggs. Not only is their geometric pattern visually interesting and different from all of the other Easter eggs you typically see, they're also surprisingly easy to create. All you need to make these patterned Easter decorations are some cheap plastic eggs, a bit of Mod Podge, some colorful tissue paper, scissors and a paint brush. In fewer than ten steps, you'll be able to make your own version of these pretty and unique Easter eggs. The step-by-step tutorial in this 7 Cute Easter Craft Projects eBook will help guide you in creating your own Easter egg masterpieces.

Also included in this Easter craft eBook is a free crochet pattern for adorable tiny Easter eggs, so if you prefer the look of yarn to the look of paper, you'll want to check out the Easter crochet instructions featured in this collection.


Download the How to Make Easter Crafts free eBook today!
Easter Decorations for the Home: The Grass is Greener Wreath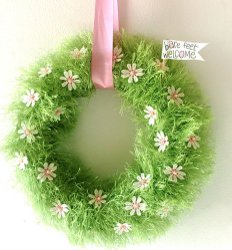 One of the best parts of Easter that it's the beginning of the spring season, which means celebrating the warmer weather, the return of the sun and the beauty of nature. In this 7 Cute Easter Craft Projects eBook, we've included some of our favorite easy to make Easter decorations that embrace the spirit and joy of spring. From the adorable Easter chicks featured on the cover of the eBook to this cute and interesting grass wreath, all of the Easter crafts in this collection are sure to add some fun spring flair to your home this holiday season.

You probably can't tell just from looking at the picture, but this Grass is Greener Wreath is actually made using lime green yarn (the Fun Fur variety from Lion Brand). What a clever and easy way to make an Easter wreath! Find out how to put together your own version of this springtime door decoration by following the quick wreath tutorial included in this eBook. You won't believe how simple it is, as are many of the Easter craft projects in this collection.

Anyone looking for DIY Easter decorations for the home should consider making this fun wreath. Why buy decorations for Easter when it's so simple to create your own? Plus this is one of those Easter crafts that your friends, family and neighbors will be raving over. They'll also be impressed by the Dangling Eggs wreath featured in this eBook, so it's up to you which Easter wreath best fits your holiday home decor. You can find even more cute homemade Easter decorations in the 7 Cute Easter Craft Projects eBook too, so make sure you get your free copy today.
To learn more about what this eBook has in store for you, check out the video below!
Need Help Downloading?
If you are having trouble downloading our free eBooks, visit our FAQ page here: How to Download Our eBooks.
Don't Miss Our Other Free eBooks!
If you enjoyed this eBook, you won't want to miss any of our other downloadable holiday craft collections. You can browse our entire library of free eBooks here.
Sign Up For Our Free Newsletter
With your free copy of the 7 Cute Easter Craft Projects eBook you can also subscribe to our Create and Celebrate newsletter to become part of a community of holiday crafters. In subscribing to the newsletter you will receive:
Weekly emails with free craft projects, tips, collection pages, videos and more
DIY ideas and inspiration for all of your favorite holidays, including Christmas, Halloween, Fourth of July, Valentine's Day and more
Access to our free project library full of thousands of free craft instructions
The opportunity to share ideas and help others in the crafting community

You can find more craft inspiration for each and every holiday by subscribing to our free newsletter, Create and Celebrate. You'll receive tons of ideas for holiday crafts that are just as cute and fun as the Easter crafts in this eBook. Each week our newsletter features new and exciting projects from creative and talented craft bloggers and craft companies. So don't miss out on another issue; sign up for Create and Celebrate today and be sure to visit AllFreeHolidayCrafts.com for additional inspiration!
I hope this eBook has inspired you to create some fun, homemade decorations for Easter. The 7 cute Easter craft projects included in this collection are meant to give you some inspiration for your holiday crafting this spring. Whether you make one of these Easter crafts exactly as shown in this eBook or simply use these projects as a jumping off point for other craft ideas for Easter, we hope you enjoyed our collection of Easter decorations, Easter egg decorating ideas and Easter basket craft ideas.

Download the How to Make Easter Crafts free eBook today!
For even more Easter craft inspiration, take a look at our list of 50 Cute Craft Ideas for Easter. You'll find Easter basket ideas, creative egg decorating tutorials, easy-to-make decorations, and much more!
Tags / Related Topics
Your Recently Viewed Projects
Images from other crafters

Love these projects? Get MORE delivered to your Inbox – FREE Click Here!