How to Host a Book Swap: 10 Steps for a Pleasant Party
Learn how to run a book exchange party for you and your friends with this simple step-by-step guide!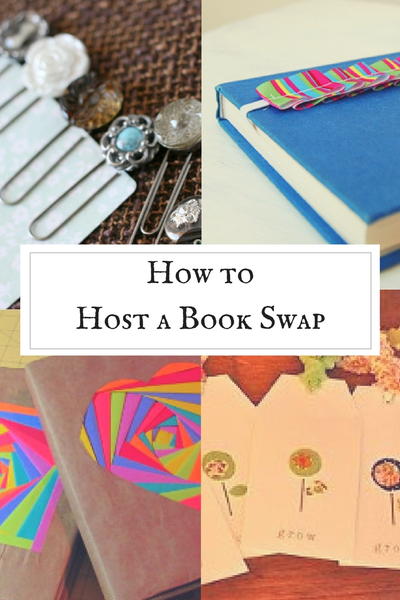 How to Host a Book Swap 10 Steps for a Pleasant Party
If you're a self-proclaimed book lover, then chances are you have shelves and shelves of old books at home that you just don't know what to do with. Since simply throwing them away  isn't an option because of their sentimental value and your emotional attachment, hosting a book exchange is the best solution for your woes. You can clear out some space for new books and it will give you an excuse for getting together with your book-loving friends for a stress-free party that your guests won't soon forget. Just follow this guide on How to Host a Book Swap: 10 Steps for a Pleasant Party for you and your friends that will satisfy all of your reading desires!

In this how-to you'll find some simple book swap rules that will help your book exchange go smoothly and make the experience fun for everyone on the guest list. We've even included some book-themed DIY crafts that you can choose to make for your party-goers or yourself. Hosting a book exchange does require some organization, but following these simple steps will make it much easier!
 
10 Simple Book Swap Party Tips
Compile your guest list. This is one of the most important parts of hosting the perfect book swap and it does require some distinction. After all, this isn't just a regular party. Make sure to include a variety of guests that are well-read. You'll want to have a variety of books at your party for your guests to choose from, not just the latest and greatest bestsellers. This means including people that share the love of reading with you and have unique preferences when it comes to reading so you all can experience a book you may have never bought yourself. 

Pick a date, time, and send out those invites. Since this is a party for you and your friends, have some fun with it and schedule your book swap party during the evening hours for a weekend get-together you'll enjoy. You can choose to send out easy electronic invites to save time, or be fancy and make some handmade invitations your guests will love. Customize these neutral DIY Monogram Cards for the perfect invite to go along with your book-themed party.

Encourage a judgment-free space. The most successful book exchange parties have a lot of books so tell your guests to bring as many as they want! Most importantly, encourage your guests to bring all kinds of books, not just ones they think people will like. The point of book swaps is to get new books and to explore different interests, which you won't be able to do if everyone brings what they think people want. 

Plan to have plenty of book-themed snacks and refreshments. You want people to discuss their books and talk to other guests about theirs, so be sure provide simple foods that are easy to eat. Maybe you'll have Gatsby-inspired mint juleps or Proustian madeleines and tea to snack on. Get creative here because whatever you choose, your book-loving friends will appreciate special treats from some of their favorite literary works. 

Make room for all the books to be displayed. Make sure you have enough room for all the books to be laid out flat for easy browsing. If you're worried about space, don't fret! Just set up some folding tables you may already have on hand for extra space. You can organize the books by genre if you're feeling up to it, but you don't have to! If the books are laid out in random order, your guests are more likely to explore other options, rather just than heading straight to their favorite genre. 

Create a system. You'll want to have some sort of organization when it comes to how many books each person can take instead of just a free-for-all. The best way is to hand out tickets or tokens for each book your individual guests contribute, which can then be used to "buy" a new book!

Hand out sticky notes. While this is optional, it is a great way to intrigue your guests into picking up a book they wouldn't normally read. Encourage your guests to use the sticky notes to write a short recommendation for their books or why they love it and place it on the book for other guests to read while browsing. These Simply Striped Printable Note Cards would work great for a little extra flair!

Hold a 15-minute open trade. After everyone is done perusing, hold a 15-minute period in which guests can choose to trade their chosen books with others. This will get your guests talking to each other about their favorite books and the ones they picked out! 

Play a literary game to close out the night. Invite your guests to join in on a fun book trivia game or come up with your own creative activity that all of your guests can play. Ending the book exchange party with an engaging activity will ensure your book party isn't a flop. Play Seuss Inspired Homemade Charades as a fun game that will have all your guests reminsicing about their beloved childhood author.

Donate leftover books. Unfortunately not every book is going to go home with someone, but not to worry! Once everyone is satisfied with their new finds, you can donate all the leftover books to your local library, charity, or shelter so every book is put to good use like they so deserve. 
8 DIY Crafts for Book Enthusiasts
Make one of these creative crafts for book-lovers everywhere to complement your perfect book exchange party!
Your Recently Viewed Projects