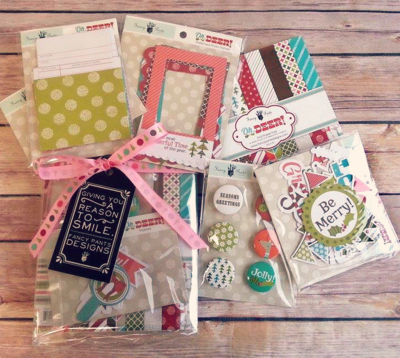 Oh, Deer! Collection Kit
Gifted by Fancy Pants Designs
www.fancypantsdesigns.com
Reviewed by Kayla Stroner, Editor, AllFreeHolidayCrafts.com

Is it just us, or is Christmas looking cuter than ever this year? Cozy pinks and blues are replacing reds and greens at every turn, and you'll be hard-pressed to make it through one holiday-themed television ad without coming face to face with a ridiculously cute animal wearing a fuzzy hat. How fitting then, that Fancy Pants has come out with the Oh, Deer! Collection Kit.

Use the Ephemera Pack--an evelope chock-full of cute paper doo-dads--to accent any Christmas photo page. Inside, you'll find little paper candy canes, trees, and ornaments--you might even find a deer wearing a stylish sweater! Also included is a stack of 6"x6"scrapbooking pages just perfect for creating borders and makeshift holiday frames. You'll be charmed by the unique patterns.

Something you might not be expecting to find in this pack, but will definitely be glad to have, are the library cards. That's right. Library cards! These adorable cards are such a fun little bonus idea, and they'll help you keep track of the books you lend out to friends over the holiday season. Maybe your sister needs to take one of your cook books, or maybe a friend is looking for a novel or two to curl up with during blustery winter weather. Hand out your books, jot down who took what, and simply tuck the little reminder card back in the sleeve or stick it to your fridge with a magnet!

The last thing we'd like to talk about, are the adorable winter pins. If you don't want to slide them into your scrapbook pages, they're perfect for placing on cardigans, backpacks, and even stockings. These pieces of flair are adorable, sturdy, and totally reusable so you can pull them out season after season.
We simply cannot get over the Oh, Deer! Collection Kit! Fancy Pants Designs can always be counted on to compile a sweet collection of items that are cute, yet surprisingly handy, and this kit is no exception.
Your Recently Viewed Projects