30 Spring Crafts to Wear All Season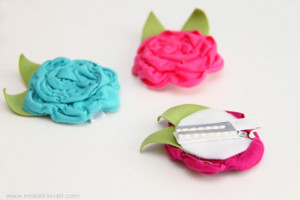 You can dress for the season while you save money this spring with a bit of help from our favorite 30 Spring Crafts to Wear All Season long. We have spring craft ideas for you to wear, DIY accessories for your hair, and even the season's hottest DIY fashion trends for the season! Take a look at our helpful list, and you'll be blooming in style this spring.
One of the greatest ways to add a bit of seasonal flair to any outfit is with a great accessory. Our DIY accessory ideas will help your hair look it's best all spring long. From hair clips for daily wear to straw hats that will keep you cool while gardening, these handmade accessories will have you looking fresh and festive!
Our list of 30 Spring Crafts to Wear All Season will also show you simple ways to make a floral skirt or dress, how to dress your neck in warmer weather, what purse to where for the season, and much more! Browse through our selection of spring crafts to wear and find something perfect for you fashion sense. There's no better way to save on seasonal spending than to go with DIY fashion ideas.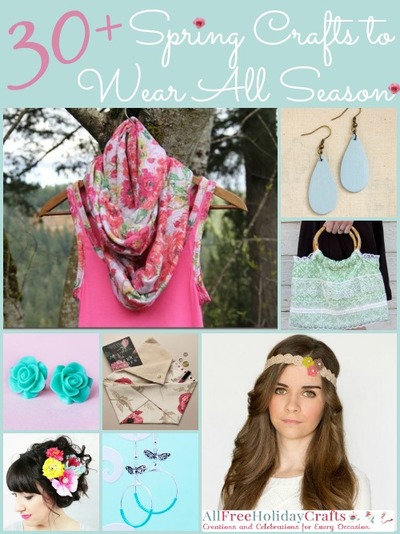 30 Spring Crafts to Wear All Season
Table of Contents
Our list of DIY fashion trends for spring will help you craft with the season's hottest colors and styles. Save some cash on your accessories for spring with one or two of our great ideas, like the Finch Collage Necklace. This trendy handmade necklace is made in a multi-media style, which is all the rage right now. DIY accessories can turn any outfit from drab to fab, so take your pick and get ready for the season with one of our spring craft ideas.
When it comes to handmade accessories, those that are made for your hair can go on the very top of your easy craft ideas list. These simple spring crafts will keep your hair style looking fresh every day. From fabric flower pieces, to handmade headbands and hats, these spring crafts for your hair include ideas that will look great on anyone. DIY accessories for your hair are a great way to spend some time crafting for spring, while redefining your fashion sense.
All women know that new clothing, purses, and other accessories can cost a fortune. Even though making your own spring fashion may seem impossible, we have plenty easy spring craft ideas that will help you save big on clothes and accessories this season. Make your own skirts, dresses, purses, and more DIY accessories with our selection of fashionable spring crafts to wear!
---
Your spring wardrobe may be complete, but is your home fully accessorized? Check out our collection of
34 Cheerful Spring Decorations
to make sure your home is perfectly styled for spring!
---
Your Recently Viewed Projects