Portable Color Me Calm Coloring Kit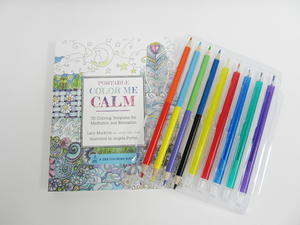 Portable Color Me Calm Coloring Kit
Gifted by: Quarto Publishing
www.quartoknows.com
Reviewed by Christine Weiher, Editor, AllFreeHolidayCrafts.com


The Portable Color Me Calm Coloring Kit is one of the neatest ideas I've seen lately. We all know how popular adult coloring books are; not only do they bring us back to our childhood, but they help relax us and de-stress us of our busy lives. This portable kit is just what you need when you're on the go.

Included in the kit is the Color Me Calm adult coloring book, twistable crayons, and double-sided colored pencils. Now I'm not really new to the crafting world, but each of these items is new to me and really "wow'd" me.

The coloring book has 70 templates for meditation and relaxation. There are six chapters full of different coloring techniques and designs. Chapter 1 is full of mandala designs, chapter 2 is full of water scenes, chapter 3 is full of wooded scenes, chapter 4 is full of geometric patterns, chapter 5 is full of floral and fauna designs and chapter 6 has beautiful natural patterns. The beginning of the book also refers to coloring tips. Cool colors like blue, green and purple are considered to have calming qualities, while warmer colors like red, orange and yellow have activating qualities. Figuring out what colors you find to be soothing is the trick to these coloring books.

I have never encountered twistable crayons, but these are so cool! They're exactly like those mechanical pencils; all you have to do is twist the bottom and the crayon comes out. It colors more like a colored pencils then a crayon as it doesn't seem waxy like a crayon is, and because of this, it colors easily. It's also thin like a colored pencil, so you can stay in the lines and easily maneuver within the tiny designs. When you're finished you can twist it the opposite way to store it safely.

The double-sided coloring pencils are exactly as they sound; there's a color on each end. This is a great space-saving technique, but that also means there is less of each color than if they were a full-sized colored pencil. Either way, I think this is an amazing idea to just have to flip the pencil around for a different color.

The Portable Color Me Calm Coloring Kit is great when traveling or waiting at a doctor's office. If you're stressed and need a few minutes to relax then this is exactly what you need. You have all the supplies you need in one handy little package.
Your Recently Viewed Projects