15 Must-See Handmade Christmas Cards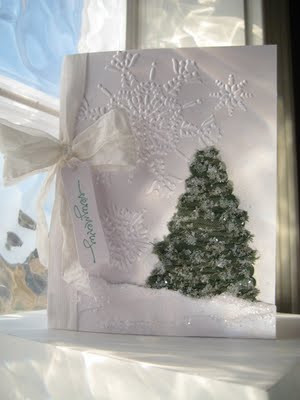 Snow is starting to fall and there's a cool chill in the air. This can only mean one thing; Christmas time is here! The Christmas season truly is a magical time of the year. The winter months are gorgeous, and the holidays fill the air with love, appreciation and gratitude. We'll all receive and send stacks of holiday cards and gifts to our friends, family and neighbors. Gift-giving is such a charming aspect of the season. Why not add an extra dash of courtesy to your cards this season with the help of our 15 Must-See Handmade Christmas Cards list. Each one of these handcrafted creations will show your loved ones how much they mean to you.

These cards won't only send your well-wishes to your address book, but they'll help you save some extra cash as well. It's so important to be thrifty during this expensive season, so use this list of 15 Must-See Handmade Christmas Cards to help keep to your budget in a crafty way. Try using some leftover supplies or scrap materials that you have around the house to make a few of these easy homemade Christmas card ideas. By reusing your scraps and leftovers, you can save a few extra dollars while simultaneously helping out the environment. It is easy to be conscious of your use of resources when you make your cards from scratch.
Get into the holiday spirit early with this useful list of 15 Must-See Handmade Christmas Cards. This listing of handmade card tutorials is chock full of ideas that anyone would be sorry to miss out on. From Christmas trees to poinsettias and snow themes to ornaments, these cards will be sure to inspire your creative bone this Christmas season. Why not celebrate this year in an extra festive way with these handmade Christmas cards for your loved ones?
15 Must-See Handmade Christmas Cards
Table of Contents
Nothing gets people in the spirit of Christmas quite like decorating their holiday tree. Adding tinsel, lights, ornaments and the shining star on top is a family tradition in every household that celebrates this marvelous holiday. Send out a few Christmas trees of your own with these great handmade Christmas cards featuring our favorite holiday symbol, the Christmas tree!
These three tutorials are meant especially for those of you card crafters looking for a challenge this craft season. These more difficult handmade card ideas will be sure to entertain any skilled crafter. Send a few of these lovely cards out to your loved ones and show them how hard you worked on their happiness this year.
These simple handmade card tutorials will give you six great ideas for holiday cards you can make in bulk. The designs are festive, and the tutorials are easy, so follow along and hand out these great cards to your family, friends and neighbors for Christmas. What a great way to share while you save this holiday season.

Your Recently Viewed Projects