"18 Easy DIY Halloween Projects" free eBook from FloraCraft
18 Easy DIY Halloween Projects free eBook
Scare up some eerily easy Halloween decor in this free eBook!
Halloween is the perfect time to express your creativity through crafts. With this collection of 18 Easy DIY Halloween Projects, you are going to have a fabulously crafty Halloween. With FloraCraft's Make it: Fun Foam, you can decorate your entire house or classroom for Halloween. These DIY Halloween decorations are cute and easy to make. You will have no problem with these simple Halloween crafts, and maybe you can even get your kids to help! Have a DIY Halloween this year with these fun Halloween crafts.
Save money this year by making your own Halloween crafts! You can decorate your porch and house with very few materials, and you will have so much fun in the process. Save your DIY Halloween decor for next year and you can use them all over again. Making Halloween arts and crafts is a fantastic way to bond with your friends or family, and your home will be filled with memories and beautiful creations.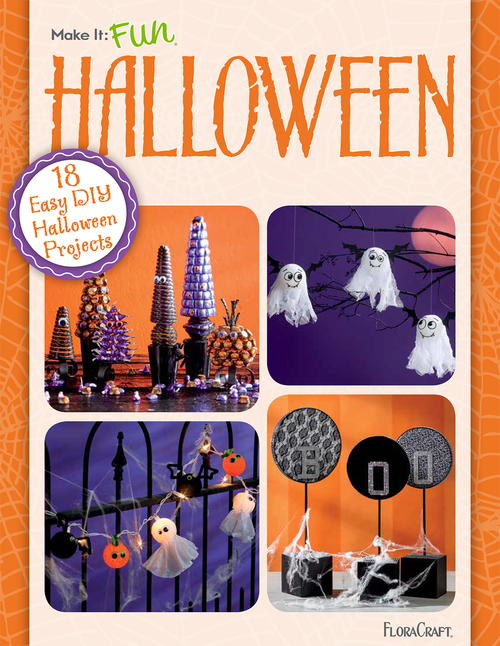 Table of Contents
Hello Holiday Crafters,

Halloween is such a fun holiday and with it comes even more fun crafts. You can make your DIY Halloween decorations sophisticated or spooky. There are so many different options for Halloween, especially in terms of craft materials. All of the crafts in this eBook are made with FloraCraft's Make It: Fun Foam, and they're easy to do.

Get together with friends or gather your kids together for a fun time and make some lovely DIY Halloween decor. These Halloween crafts aren't like your jack-o'-lanterns; you will be able to use them for many years to come. Embrace the spooky and craft your way through Halloween with some of these DIY decor ideas. Choose from the collection of Halloween crafts in the 18 Easy DIY Halloween Projects free eBook and fall in love with the holiday all over again.

Happy Halloween!
The Editors of AllFreeHolidayCrafts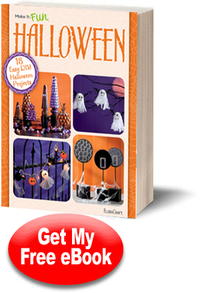 Download your copy of 18 Easy DIY Halloween Projects today!
Crystal Ball and Spider Den (pg. 27): If you're throwing a Halloween party and want the perfect centerpiece, make this Crystal Ball and Spider Den. It's spooky, but also a little classy, and it's guaranteed no one will have the same Halloween decor as you. Your friends won't believe that you made everything yourself and you can use them every year.

Lighted Halloween Garland (pg. 18): If you would rather decorate your home in a cute way rather than creepy or spooky this Halloween, then this Lighted Halloween Garland is perfect. You can string it over your front door or on the fence. Kids might not be scared of your house this Halloween but they'll love this DIY Halloween garland. Sing along to the Monster Mash or tell ghost stories while you make this craft.
Flower Pumpkins (pg. 31): If you want your DIY Halloween decor to be cute rather than spooky, make some Flower Pumpkins. Using seasonal flowers, you can make a unique and adorable DIY Halloween decoration. Use them as a centerpiece or arrange them on your front porch. Your friends and neighbors will be jealous that they didn't think of these DIY Halloween decorations first.

Halloween Bat and Cat (pg. 11): The Halloween Bat and Cat are a perfect Halloween craft for kids that can be done at a party or in a classroom. The craft calls for a glue gun, but to make it more kid-friendly, you can use regular glue too. The kids will have so much fun making their favorite Halloween characters with these Halloween arts and crafts for kids.

Download your copy of 18 Easy DIY Halloween Projects today!
If you are having trouble downloading our free eBooks, visit our FAQ page here: How to Download Our eBooks.
If you enjoyed this eBook, you won't want to miss any of our other downloadable holiday craft collections. You can browse our entire library of free eBooks here.
With your free copy of the 18 Easy DIY Halloween Projects eBook, you can also subscribe to our Create and Celebrate e-mail newsletter to become a part of a community of holiday crafters. In subscribing to the newsletter, you will receive:
Weekly emails with free craft projects, tips, collection pages, videos, and more.
DIY ideas and inspiration for all of your favorite holidays and occasions, including July Fourth, Halloween, baby showers, Christmas, Thanksgiving, and more.
Access to our free project library full of thousands for free craft instructions.
The opportunity to share ideas and help others in the crafting community.
Be sure to sign up for the Create and Celebrate holiday craft newsletter today so you don't miss another issue!

This collection of DIY Halloween crafts will serve as a wonderful source of inspiration that will help you transform your home for the holiday. These awesome DIY Halloween decor ideas can be used year after year, and you'll never tire of them. Show off your creativity when you personalize your home for Halloween. With these 18 Easy DIY Halloween Projects you'll be sure to make the Halloween holiday a memorable time of year for you and your loved ones.
Don't forget that you can find more craft inspiration for each and every party, season, and holiday by subscribing to our free newsletter, Create and Celebrate. You'll receive tons of ideas for party crafts that are just as cute and creative as the fall crafts and fall decorating ideas that are included in this free, printable eBook. Each week our newsletter features new and exciting projects from talented craft bloggers and craft companies. Don't miss out on another issue; sign up for Create and Celebrate today and be sure to visit AllFreeHolidayCrafts.com for additional creative inspiration!

Download your copy of 18 Easy DIY Halloween Projects today!
Your Recently Viewed Projects