24 DIY Wreaths for Winter Decorating
The winter holiday season typically means a lot of traveling and visiting close friends and family. The first thing you're greeted by when you get to a loved one's home is their front door. Decorate that door with an inviting winter wreath to welcome in your guests and to spread the festive mood.
The classic holiday wreath is a simple evergreen, with some traditional red ribbon. There are many other options. You can find a wreath in just about any store during the holidays, but you can learn how to make a Christmas wreath just as easily, and for less. Whether you're looking for a classic-looking evergreen wreath or one that's made from something a little different, like frosted balls, you'll find something to pique your interest. If you'd prefer to use household materials, you can learn how to make wreaths out of fabric, yarn, and even toilet paper rolls. Find the perfect wreath this Christmas with these 24 wreaths for winter decorating.

24 DIY Wreaths for Winter Decorating
Table of Contents
Artificial Winter Wreaths
Typical winter wreaths resemble nature, like a wreath made of bits of evergreen or one that's composed of pine cones or moss. If you'd like to replicate these classic wreaths for your own home, these are the perfect patterns for you. These holiday wreaths are gorgeous in their simplicity. Plus, they look store bought so you can wow everyone with your talent!
Ornamental Holiday Wreaths
As you put up your holiday decorations you always discover a few holiday casualties in the form of broken ornaments. Sometimes, your holiday ornament collection has grown so much and you can't justify throwing out your extra ones. In such instances, recycle those decorations and make one of these ornament wreaths!
Fabric and Yarn Wreaths
Of course, you can replicate the bushy wreath look with yarn or fabric. These DIY wreaths all heavily feature yarn or fabric and are all super easy to make. These wreaths will give your home an understated holiday glow, and without any glued on ornaments or feathers are the easiest to store for future holiday decorating.
Unique Holiday Wreaths
You don't normally think of Christmas or wreaths when you think of frosted glass, toilet paper rolls, coffee filters, and Lima beans, do you? If you want to use wreaths for winter decorating, they don't always have to be evergreen. These DIY wreaths are simple to make and don't look anything like the materials when finished. Give any of these fun projects a try for a unique and memorable decoration.
---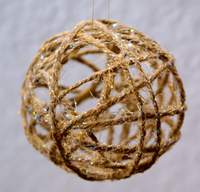 If you liked these ideas for unique holiday wreaths, check out this tutorial and learn how to make Glittery Twine Ball Ornaments.
---
Your Recently Viewed Projects