"7 Easy DIY Christmas Crafts: Make Your Own Ornaments, Wreaths and More!" eBook
By:
Rachel Bernstein, Editor for AllFreeHolidayCrafts
7 Easy DIY Christmas Crafts: Make Your Own Ornaments, Wreaths and More! free eBook
DIY your holiday cheer with these easy Christmas craft ideas!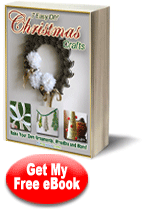 Simple homemade Christmas crafts are the key to success during a busy holiday season. With everything going on during the winter months (preparing for Thanksgiving, occupying the kids during winter break, shopping for Christmas gifts, and the list goes on!), who has time to make elaborate Christmas decorations? We know what it's like to have a packed schedule, which is why we put together this special collection homemade Christmas crafts that can be made quickly and don't require a ton of supplies.

In fact, all of the ideas in this 7 Easy DIY Christmas Crafts: Make Your Own Ornaments, Wreaths and More! eBook are so simple you'll barely believe it! Looking at the cute and fun Christmas craft ideas in this collection, it's amazing to know that they're actually homemade and can even be finished in one sitting!

Whether you want a quick and easy way to make Christmas ornament crafts or you're looking for ways to make holiday wreath making less time-consuming, you'll find all of your answers right here in this free eBook! There are even simple Christmas crafts for kids to help out with! The Toilet Paper Roll Star Ornaments are one of our time-tested family favorites, so be sure to check those out!

Christmas is a holiday that's all about traditions, and with this collection of 7 Easy DIY Christmas Crafts you have reason to start another one! Make crafting a family activity this year by choosing one (or several) of the simple Christmas craft ideas from this free eBook and making them together! You'll have so much fun making these easy DIY Christmas crafts and when you're done you'll have homemade Christmas decorations that you can treasure for years to come!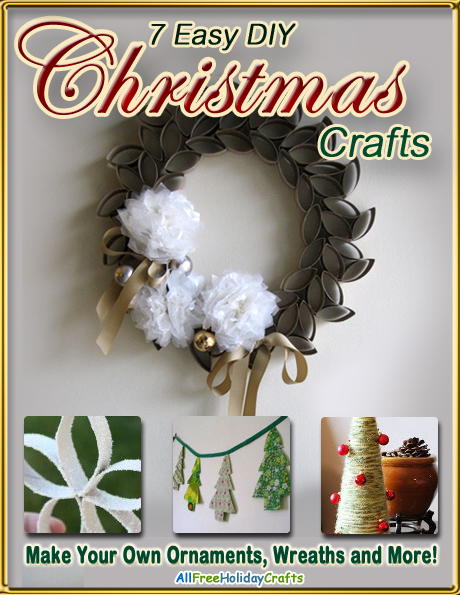 7 Easy DIY Christmas Crafts: Make Your Own Ornaments, Wreaths, and More
Table of Contents
Hello Holiday Crafters,
There's a reason people craft for Christmas all year long: there's just too much cute and fun stuff to make that it could take 365 days to get everything finished! Since there's a never-ending supply of festive Christmas project ideas available online, it can be hard to decide here to start!

To help you out, we've gone through and selected seven of our favorite DIY projects for the holidays. All of the crafts in this eBook are easy to make, because who has time to make complicated projects during the holidays? "Simple is best" has always been our motto and that's what we're showing off in this collection: the best easy Christmas craft projects from the blogosphere. From wreaths to ornaments to gift wrap and so much more, you're sure to find something to make your Christmas special in this eBook!

Happy Crafting and Merry Christmas,
The Editor of AllFreeHolidayCrafts

Download your copy of 7 Easy DIY Christmas Crafts today!
Simple Ways to Make Your Own Ornaments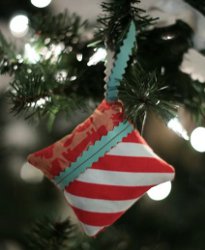 Ornaments are the perfect easy Christmas crafts to make if you don't have a ton of time. Since they're so small, they're not nearly as labor intensive as some other homemade Christmas decorations you might find. But just because they're a simpler project doesn't mean there isn't room to get creative. If you want to make your own ornaments that will stand out from the store-bought ones, there are some really cute ideas included in our eBook of 7 Easy DIY Christmas Crafts. We especially love the details on this Trendy Pillow Ornament. With its fun fabrics and cushy design, this looks like a tree decoration you might find at a cute boutique, but really it's one of our favorite easy to make Christmas ornaments! We love how modern it looks, especially when mixed with more traditional ornaments on your tree. These cute Christmas ornament crafts also make great gifts, especially if you have a friend or family member who's into fashion.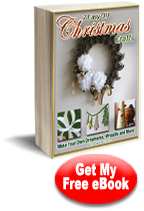 Download your copy of 7 Easy DIY Christmas Crafts today!
Make Christmas Wreaths the Easy Way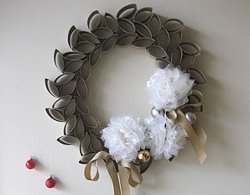 It just wouldn't be Christmas without a wreath displayed on your door! But while your neighbors will probably be putting up pre-packaged door decorations, you can make your house stand out by making a home made Christmas wreath. You might find this to be a pretty daunting challenge, especially if you've never done any holiday wreath making before. But rest assured, the wreath making instructions included in this 7 Easy DIY Christmas Crafts eBook are all really simple to follow. Take this Fabulous Toilet Paper Roll Wreath, for instance. Using recycled cardboard tubes, scissors and your trusty glue gun, you can make Christmas wreaths unlike any others. Recycling has never looked so pretty! When your friends and family see this cool decoration, they're going to be asking you how to make a wreath just like it for their own home!

A word to the wise: Be sure to hang this homemade wreath indoors since cardboard isn't exactly waterproof. If you think about it though, it's actually better to have a wreath hanging in your living room than on your front door because you'll get to look at it a lot more! Of all the projects included in the 7 Easy DIY Christmas Crafts eBook, this is the one that we just can't stop staring at. It's just so stunning!

Easy to Make Christmas Decorations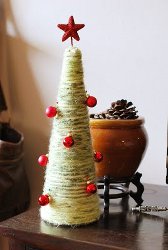 It's a well-known fact that decorating for Christmas can get pricey pretty quickly, and with all those presents to buy, you don't need any unnecessary expenses. That's why the homemade Christmas decorations included in the 7 Easy DIY Christmas Crafts eBook are so great. You can make them without busting your holiday budget. Plus, handmade decorations are a nice touch when you have the whole family gathered together for Christmas dinner or sitting in your living room unwrapping gifts. It's so much more special to be surrounded by homemade Christmas decorations that were made with love! One of our absolute favorite ideas from the 7 Easy DIY Christmas Crafts eBook is these pretty DIY Yarn Christmas Trees. Who knew that you could make such lovely homemade Christmas decorations out of yarn and a few other supplies? If you love the look of modern decor but have never been able to figure out how to replicate it in your own crafts, this is the tutorial for you. With their conical shape and fuzzy texture, these yarn Christmas trees are a fun take on the contrast between hard and soft. They'd look great in a variety of colors, so why not make a bunch to add some extra Christmas cheer to your home this season?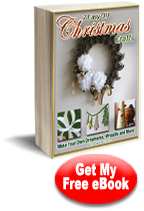 Download your copy of 7 Easy DIY Christmas Crafts today!
More Easy DIY Christmas Crafts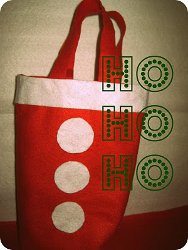 We don't want you to get the impression that Christmas craft ideas are only about ornaments, wreaths and decorations. There are so many easy DIY Christmas crafts that don't fit into any of the above categories. One of the most popular homemade Christmas crafts is DIY wrapping paper and other sorts of gift wrap. Since a major part of Christmas is giving presents to one another, it only makes sense that one of the Christmas craft projects that people like the most is handmade gift wrap. Just imagine how great your presents will look sitting under the tree when they're dressed up with handmade bows, homemade gift tags and specially designed gift bags! We're huge fans of this clever Just Like Santa Gift Bag because it's so playful. All you need is some red and white felt, a sewing machine and 15 to 20 minutes and you can create your very own jolly gift bag! This is one of those easy DIY Christmas crafts that will be popular with people of all ages, so make one for your 5-year-old nephew and one for grandma too!

Download your copy of 7 Easy DIY Christmas Crafts today!
If you are having trouble downloading our free eBooks, visit our FAQ page here: How to Download Our eBooks.

If you enjoyed this eBook, you won't want to miss any of our other downloadable holiday craft collections. You can browse our entire library of free eBooks here.

With your free copy of 7 Easy DIY Christmas Crafts: Make Your Own Ornaments, Wreaths and More! eBook you can also subscribe to our Create and Celebrate newsletter to become part of a community of holiday crafters. In subscribing to the newsletter you will receive:
Weekly emails with free craft projects, tips, collection pages, videos and more
DIY ideas and inspiration for all of your favorite holidays, including Christmas, Halloween, Fourth of July, Valentine's Day and more
Access to our free project library full of hundreds of free craft instructions
The opportunity to share ideas and help others in the crafting community
I hope this eBook has inspired you to create DIY projects to celebrate the holidays. The 7 easy DIY Christmas crafts included in this collection show just how easy it can be to make homemade decorations to make your holiday extra special. But Christmas isn't the only holiday for DIY projects. Show off your creativity by making handmade decor for all of life's celebrations, whether it's a birthday party or a national holiday! When you subscribe to our newsletter, Create and Celebrate, you'll get tons of ideas for holiday projects that are just as quick and easy as the Christmas crafts in this eBook. Every week the newsletter features new and exciting project ideas from creative and talented crafters. Don't miss out; sign up for Create and Celebrate today and be sure to visit AllFreeHolidayCrafts.com for additional inspiration!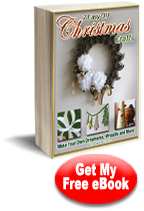 Download your copy of 7 Easy DIY Christmas Crafts today!
Tags / Related Topics
Your Recently Viewed Projects
Images from other crafters

Free projects, giveaways, exclusive partner offers, and more straight to your inbox!