Homemade Christmas Ornaments: 9 Easy Ornament Tutorials
By: Jessica Nichols, Editor of AllFreeHolidayCrafts.com

Updated October 20, 2015
Homemade Christmas Ornaments: 9 Easy Ornament Tutorials free eBook
Decorate your tree this year with beautiful DIY ornaments!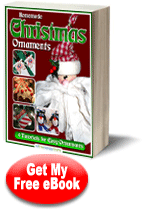 Homemade Christmas decorations are easy to make with this free collection of instructions for DIY Christmas ornaments. Homemade Christmas Ornaments: 9 Easy Ornament Tutorials has all kinds of ornaments you can make as decorations for your tree or as gifts for your friends and family.

This free eBook is full of all kinds of ornament tutorials to keep you crafting right up until Christmas Eve. Fabric crafters and paper crafters alike will love the ornaments in this collection. You'll find ornaments to sew and ornaments to paint, and several tutorials that will engage all of your crafting skills. We've also got several Christmas ornament projects that you can do with your kids or grandchildren. Even if little ones can't help with the more challenging crafts, they'll be delighted by the whimsical designs. With these lovely handmade Christmas ornaments, your family will all make time to trim the tree together. They won't want to miss out on seeing all the adorable ornaments you've created!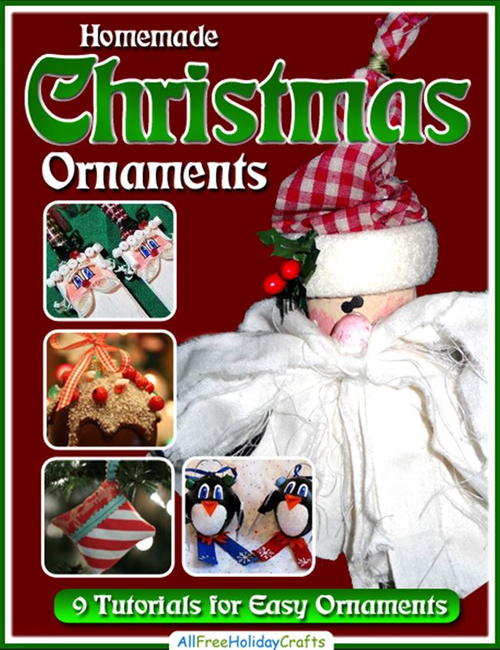 Homemade Christmas Ornaments: 9 Easy Ornament Tutorials
Table of Contents
Hello Holiday Crafters,
When I was growing up, trimming the tree was a special occasion in my home. My mom would turn up the Christmas music loud enough to fill the whole house, and we would set hot chocolate boiling while she hauled out boxes of Christmas ornaments. My favorite part was hearing the stories behind each ornament; nearly all of my mother's Christmas ornaments were handmade by friends or family members. The love and care that went into making each ornament made our Christmas tree that much more personal and special.
This year, AllFreeHolidayCrafts invites you to add a handmade touch to your Christmas tree with nine adorable DIY ornament tutorials. All of these ornaments are easy enough that you can make a whole bunch of them at once. Give them away individually as gifts, or use a whole batch of the same ornament to give your Christmas tree a cohesive feel.
Whether your style is country or modern, elegant or cutesy, you're sure to find a homemade ornament you'll fall in love with in this collection.

Happy Crafting,
Jessica, Editor of AllFreeHolidayCrafts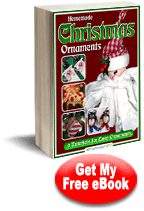 Download Homemade Christmas Ornaments: 9 Easy Ornament Tutorials for free today!






Kids Christmas Ornaments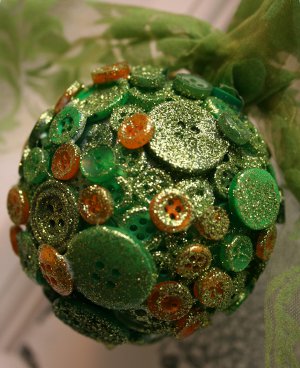 Children love making Christmas ornaments and giving them to family members as gifts, and they love seeing their handmade ornaments hanging on the tree even more! Making Christmas ornaments with your children or grandchildren is a wonderful way to get them excited about crafting, teach them a few artistic skills, and celebrate Christmas together. When you're done, you can hang the ornaments on your Christmas tree to show your little ones how proud you are. They'll be so excited to see their homemade ornaments decorating your home year after year.

If you're concerned about the crafting skills required to create unique Christmas ornaments, making Christmas ornaments doesn't have to be a challenge for children. We have several simple Christmas ornaments in this collection that your kids will easily be able to make. The Buttons and Sparkles Ornament shown here is a great ornament to make with kids. They'll adore picking out the different colored buttons to glue onto a Styrofoam ball, even if they are too young to use the glue gun themselves. The glittery topcoat will delight kids, and it's easy enough for kids to paint on without help. You can have several of these Christmas ball ornaments ready to hang on the tree in less than an hour.

Along with easy Christmas ornaments that kids can make, this free collection of ornament tutorials also includes playful ornaments that you can make for your children. Personalize them, give them as Christmas gifts or stocking stuffers to your children, and watch as they hang their special new ornaments on the tree! Crafting ornaments with your children or making ornaments for them as gifts can become a cherished tradition that your family will continue for years to come.

Download Homemade Christmas Ornaments: 9 Easy Ornament Tutorials for free today!


Santa Ornaments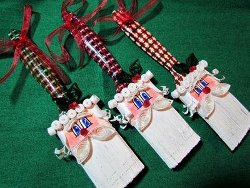 Have a holly jolly Christmas with our festive Santa ornaments! Santa Claus will be sure to leave more presents under your Christmas tree when he sees these adorable ornaments made just for him. We have a couple fun Santa Claus ornament tutorials that you're sure to enjoy making this season. They have a rustic, country feel that's perfect for homey decorations and gifts. You wont' be able to resist making one of these Santa ornaments to top every one of the Christmas presents you're giving this year.

These Brush Beard Santa Ornaments are a classic country Christmas craft, and they're included in this collection of ornament tutorials. They're a fun ornament to make for your local craft fair or a good way to embellish gifts. You can make them as elaborate or as simple as you like. Just start with a clean paintbrush, paint it the bristles white for Santa's beard, and paint the rest of the handle to resemble Santa's face and hat. You can follow the directions in this tutorial to give Santa quilled paper features and a plaid hat, or you can simply paint or glue on features to make this craft a bit easier. There are so many ways you can alter this versatile craft, that you won't get bored of making these Santa ornaments until Christmas is over!
If you enjoyed this eBook, you won't want to miss any of our other downloadable holiday craft collections. You can browse our entire library of free eBooks here.
Easy Christmas Ornaments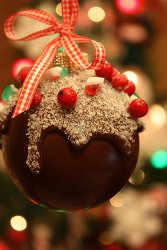 If you don't want to give yourself a stress headache making Christmas ornaments this year, we've got plenty of easy ornaments that you can make in a flash, without exercising too many advanced crafting skills. These Christmas craft projects are great for when you need to whip out a whole batch of Christmas ornaments in a short amount of time. If you have a craft fair coming up in a week and you need to fill your table quickly and easily, or if you need to make a dozen ornaments to give as teacher gifts before school closes for Christmas break, we've got the perfect ornament inspiration!

This Chocoholic's Dream Ornament is an easy ornament that everyone can appreciate! Make this for all your friends and family members who've got a sweet tooth. Buy discounted Christmas ball ornaments, and cover them in hot glue and dark brown spray paint to look like dripping chocolate truffles. An extra layer of Mod Podge and glitter give these chocolates a sugary coating, and you can even add crushed peppermint sticks to make them even more tempting. The best part about these easy ornaments is that you can make them in bulk with a few inexpensive materials and just an hour or two of your time.

Download Homemade Christmas Ornaments: 9 Easy Ornament Tutorials for free today!





Christmas Ornaments to Paint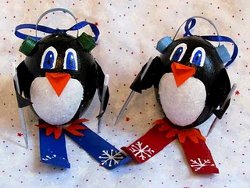 These ornaments are for you if painting is your craft of choice. Get out your palette and start adding adorable faces and colors to all your handmade Christmas ornaments. We've got several Santa ornaments and an impossibly cute pair of penguins for you to embellish with your paintbrush. One of our favorite things about all these Christmas ornament painting projects is that you can personalize them however you like. If you want your penguins to have purple and orange skis and funny expressions, the only thing you need is another bottle of paint and your imagination!

These Penguins on Skis are a great example of how paint can transform ordinary objects into something festive and adorable. You might not guess just from looking at them, but these penguins are made from blown-out eggshells, cardboard strips, and toothpicks. With a bit of color and some artistic skill, these simple household items become playful Christmas decorations with tons of personality. We hope the painted ornaments in this collection inspire you to be creative with your own Christmas ornament projects.

Download Homemade Christmas Ornaments: 9 Easy Ornament Tutorials for free today!
Cloth Ornaments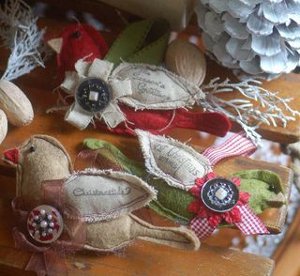 Spend a few hours at the sewing machine this holiday season, and you'll come away with tons of beautiful ornaments! If you enjoy simple sewing projects and you want to show your love of stitching in your Christmas decorations, we've got several pretty sewn ornaments in this collection. Whether you enjoy hand-stitching or prefer to do speedy stitching with your sewing machine, we've got a fabric ornament for you. Pick out a swathe of your favorite fabric or dig through your scrap stash and get started on one of these adorable ornaments.
The Easy Sew Bird Ornaments are one of the cutest ornaments in this collection of Christmas crafts. The rustic raw edges and ink stamps in this project not only make it easy to finish fast, but also give it a homey, country feel. Get creative with your fabric stash and make a whole flock of scrappy Christmas birds with this pattern. A selection of seasons greetings stamps embellish each bird wing to make these little stuffed birds a perfect substitute for a Christmas card or gift.



Download Homemade Christmas Ornaments: 9 Easy Ornament Tutorials for free today!
If you are having trouble downloading our free eBooks, visit our FAQ page here: How to Download Our eBooks.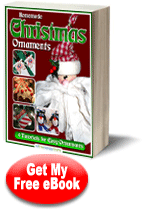 With your free copy of the Homemade Christmas Ornaments: 9 Easy Ornament Tutorials eBook, you can also subscribe to our Create and Celebrate e-mail newsletter to become part of a community of holiday crafters. In subscribing to the newsletter you will receive:

Weekly emails with free craft projects, tips, collection pages, videos and more

DIY ideas and inspiration for all of your favorite holidays, including Christmas, Halloween, Fourth of July, Valentine's Day and more

Access to our free project library full of thousands of free craft instructions

The opportunity to share ideas and help others in the crafting community
Be sure to sign up for the Create and Celebrate holiday craft newsletter today so you don't miss another issue!
This collection of Christmas ornament tutorials is the perfect inspiration for trimming your tree this year, and these marvelous ornament crafts are the best way to decorate your tree on a budget. Show off your Christmas spirit with all of the awesome crafts in Homemade Christmas Ornaments: 9 Easy Ornament Tutorials Tutorials. Create something heartwarming and handmade to celebrate Christmas the traditional way!
Don't forget that you can find more craft inspiration for each and every holiday by subscribing to our free newsletter, Create and Celebrate. You'll receive tons of ideas for holiday crafts that are just as cute and creative as the homemade Christmas ornaments in this eBook. Each week our newsletter features new and exciting projects from talented craft bloggers and craft companies. So don't miss out on another issue; sign up for Create and Celebrate today and be sure to visit AllFreeHolidayCrafts.com for additional inspiration!


Download Homemade Christmas Ornaments: 9 Easy Ornament Tutorials for free today!
Tags / Related Topics
Your Recently Viewed Projects
Images from other crafters

Love these projects? Get MORE delivered to your Inbox – FREE Click Here!