Cute Spring Doily Table Runner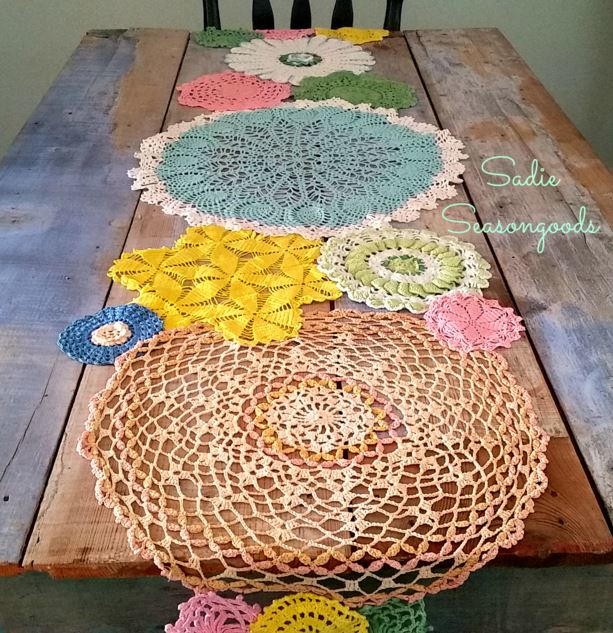 Cute Spring Doily Table Runner
Sometimes you just need color in your home and in your life. When you make this Cute Spring Doily Table Runner, you will have beautiful and colorful DIY table decorations that your guests will gush over. You can make this DIY table runner even if you can't crochet a doily, because all of them were found in thrift and antique stores. Once you make the table runner, you can design DIY centerpieces to go with it to really complete the look. This table decor is so delightfully mismatched that it looks like the doilies were supposed to be together.
Interview with the designer of this beautiful DIY table runner:
We asked the talented Sarah Norton Ramberg to answer some questions about blogging and crafting!
Q. How long have you been blogging? Why did you start?
A. I've been a blogger for a little over 2 years - so I'm still a newbie! My "real job" is technical and scientific - so I started my blog, Sadie Seasongoods, to give myself some creative freedom.
Q. What does crafting mean to you?
A. Because I'm an upcycler/repurposer, my crafting is an unusual mix of creativity and practicality. If something can be reused instead of tossed - in a meaningful, useful way - then I'll do it (and make it pretty)!
Q. What skill/technique/project/recipe is on your bucket list?
A. Do power tools count?? Learning how to use different tools - power saws, etc. - safely and effectively is definitely something I'm working on.
Q. How would you describe your style?
A. Inventive-thrift-functional-quirky! Apparently my style has multiple personalities.
Q. Where do you get your inspiration?
A. Part of my blog involves exploring vintage and thrift shops in different small towns across the South - so I get my inspiration from Main Street, USA.
Time to CompleteWeekend project

Your Recently Viewed Projects