How to Mix Cocktails and Cocktail Party Ideas
Become a pro at making cocktails and hosting the best cocktail parties!
By:
Sara Raffensperger, Editor, AllFreeHolidayCrafts.com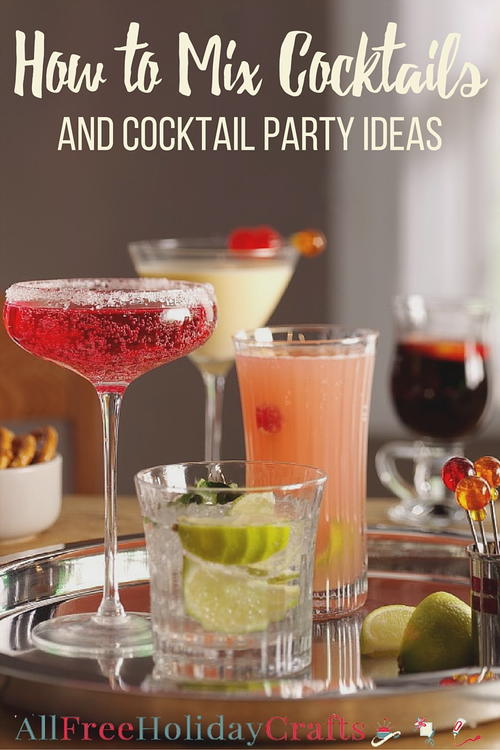 How to Mix Cocktails and Cocktail Party Ideas
Making cocktails for your party doesn't have to be difficult or even expensive. With our article, How to Mix Cocktails and Cocktail Party Ideas, you are going to be the best host your guests have ever seen. Your night is going to be a lot less stressful if you pick a few easy drinks to make instead of stocking your bar to the brim. Allow your guests to step out of their drinking comfort zone and choose some signature cocktails and pass some yummy hors d'eourves that will please every crowd. 
We want you to be able to have a fun and relaxed night with your guests without worrying that you forgot something important. We've compiled a few tips and tricks to make sure that your cocktail party goes smoothly. Cocktail parties are a fun way to get together with friends and try new drinks. They're usually a low key atmosphere and your guests will love to chat with you and each other as the night goes on. You could make your cocktail party a casual affair or have everyone dress up in their best suits and dresses. Either way, you're all going to have a lot of fun!
How to Mix Cocktails
We aren't all bartenders and we definitely can't afford to hire a bartender for the night every time we want to throw a party for our friends. Relax and follow these simple cocktail tips and your guests will marvel at your drink making skills. Maybe they'll ask you when you found the time to attend a bartending class and where can they sign up? There are a lot of crowd-pleasing drink recipes out there, so pick a few and have fun!
Cocktail Tips
Make simple syrup and store it in your fridge. A lot of cocktail recipes call for simple syrup and if you make a bunch ahead of time, then that's one less thing you have to make the day of the party. It'll last in your refrigerator; store it in a jar or a squeeze bottle and you'll be ready the next time you need it.
Simple syrup recipe (makes 3 cups):
Combine 2 cups each of sugar and water in a small saucepan over medium heat. 
Bring to a simmer, stirring until the sugar dissolves.
Simmer for 1 minute, then pour into a heatproof jar. 
Let cool and refrigerate before using.

Use fresh ingredients. Every drink will taste better if you're using fresh juice or fresh garnishes. For the first few drinks people have, use fresh ingredients. If they're a few drinks in, they might not notice if you use store-bought lemon juice in their drink. Fresh ingredients are just a nice touch to your recipes that show your guests how much you care about their drink experience.

Measure everything. It might look really cool to just freely pour vodka into a glass, but unless you're an experienced bartender, the cocktail is going to be unbalanced and it might not taste very good. Skilled bartenders might know the time it takes to pour one shot of spirits into a high ball glass, but you probably don't, so play it safe.
Follow a drink recipe like you would a cake recipe. Baking is all about chemistry and so is drink mixing. The drinks will taste much better if they're balanced and made like they're supposed to be made.

If your recipes call for juice of some kind, it might be a good idea to buy a little extra and freeze it. If you use regular ice, then drinks will get watered down. If you use frozen juice cubes, then the drinks will only get more flavorful as the juice melts. I highly recommend these Pomegranate Flavored Ice Cubes (pictured below)!
That being said, you still need to buy ice. A good estimate is a pound of ice per guest. Your alcohol and mixers should be chilled (unless you're serving hot drinks, obviously) and some people might prefer to use regular ice in their drinks.

Have some delicious mocktails on hand too. There are going to be guests at your party that aren't drinking for various reasons and also designated drivers. Don't exclude them from the yummy fun and make some "mocktails" or something like Fresh Cherry Lemonade.

Quick tips to remember:
1. An ounce is not the same as a shot, so pay attention to your recipe.
2. Experiment with different types of liqueurs.
3. Club soda and lime juice work with everything.
4. Don't forget your ice.
5. Don't mix your base alcohols (whiskey, vodka, rum, gin, tequila) because it will taste bad and probably make your guests feel ill.
Cocktail Party Ideas
Now that you have all the knowledge you need to make the best drinks possible, you just need to plan your party. Whether it's a big party or a small there are just a few tips you need to make this event a big success.
Stocked full bar vs. a few signature cocktails
If you're willing and able to stock your bar to the brim and let your guests choose their favorite drinks as if they're in the neighborhood pub, why not go for it? It might make things a little more complicated what with managing everyone's drink preferences, but it could give you a chance to show off your bartending skills.
If you're trying to save some money and have a more relaxing evening, have a drink menu with a few signature cocktails. You won't have to buy out the entire liquor store and your guests will still be able to choose their drinks. Make sure the drinks are different from each other so that there's something for everyone. Having different options, even if they're limited, will allow your guests to step out of their drink comfort zone and try something new.

Estimate 2-3 drinks per person. When you're planning your trip to the liquor store and wondering how much to buy, assume that people are going to want more than just one. To be safe, assume they'll want 2-3. There will be people who want less and people who want more. It'll even itself out and your guests won't be left wanting and you won't be left with a ton of leftover alcohol.
It might also be a good idea to have a case of beer and a couple bottles of wine on hand just in case some of your guests don't love cocktails as much as you do!

If you're worried about playing the right music, have people hook up their phones to the speakers and DJ for ten minutes at a time. That way no one will be solely responsible for the good tunes and everyone loves to show off their music collection.
If you want to keep it simple, you can also use a music streaming service and use one of their party playlists. Just make sure that ads don't pop up in the middle of your awesome party!

Don't forget to enjoy responsibly. Make sure that anyone who imbibed isn't driving themselves or others home. Keep a decanter of ice water and paper cups next to the other drinks as a reminder to stay hydrated.
Have coffee on hand for those that want it and don't forget to place napkins around the party area. People will alcohol in their bodies and hands will likely spill something . 
Free projects, giveaways, exclusive partner offers, and more straight to your inbox!
Tags / Related Topics
Your Recently Viewed Projects
Images from other crafters


Something worth saving?
SAVE your favorite projects
ADD personal reminder notes
QUICKLY reference your projects