33 Homemade Gifts for Mom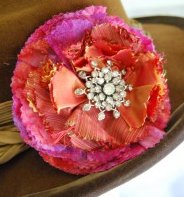 Stumped about what to get mom for Mother's Day? Don't worry, because this collection of 33 Homemade Gifts for Mom has plenty of thrifty, fun and fabulous ideas she'll love. These homemade Mother's Day gifts are sure to please because they're thoughtful, unique and made with love. If you want to give her something special this year, make one of these handmade gifts!




33 Homemade Gifts for Mom
Table of Contents
Photos are a tried and true way to Mom's heart, so if you're looking to give her a special Mother's Day gift that she'll really treasure, make something that includes a picture of her family. Whether it's a handmade picture frame, a scrapbook, a photo album or even customized photo magnets like the ones pictured above, anything that displays the smiling faces of her loved ones is guaranteed to make Mom smile as well! Discover some of our favorite photo-inspired homemade gifts for Mom in the collection of tutorials below.
There's no way that Mom won't love any of these homemade Mother's Day gifts, which were specifically designed to make her feel like a goddess! If your mother deserves a relaxing day at the spa, why not make her some personalized Mother's Day gifts that she can use to pamper herself in the comfort of her own home? When it comes to winning over a woman's heart, always go for gifts that relax and rejuvenate like the ones listed below.

Every woman wants something pretty to wear, whether it's for a night out on the town or just running everyday errands. The homemade gifts for mom listed below are all cute and fashionable accessories and clothes that she'll love to add to her collection. From pretty flower corsages to feminine tops to personalized jewelry, there are a lot of options for unique Mother's Day gifts you can make for her to wear. No matter what you choose, we're sure she'll wear your handmade gift with pride and love!

Don't worry we still have more Mother's day gift ideas below. Busy mothers will especially love the homemade Mother's Day gifts we've featured below. From cute handmade travel accessories to items that she can use at home, these DIY gifts are great for just about any mom. Make your mother something from the heart this year, she'll love the thought and love that comes along with a handmade gift for Mother's Day.

Your Recently Viewed Projects