15 Halloween Crafts for Kids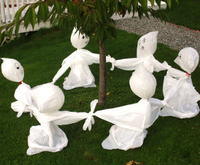 Halloween is creeping up on us which means it's time to get crafting. These 15 Halloween Crafts for Kids will get your youngins super excited for the spooky holiday. Maybe you're looking for mummy crafts to get wrapped up in on a lazy afternoon or perhaps some ghost crafts to create until your face turns white. The projects on this list of 15 Halloween Crafts for Kids will surely bring out your kids' creative side and keep them entertained for hours on end.
With this list of 15 Halloween Crafts for Kids, you'll be swimming in pumpkins, mummies, and ghosts. From candy bracelets to ghost wreaths, these Halloween projects are the best of the best. Halloween doesn't have to last only one night. Have the kids make one of these crafts for Halloween every night for the two weeks leading up to October 31st. If only trick or treating could last that long!

15 Halloween Crafts for Kids
Table of Contents

Sure you could wrap everything you see in toilet paper and call your house mummified, but that will get old quickly- as old as mummies! These mummy crafts are fun, easy, and adorable. Kind of like your kids, right? Get wrapped up in these Halloween crafts for kids for an afternoon or two.
Make this Halloween a "Boo!"-tiful one with these ghost crafts for you and your kids. Most of the materials you need are already lying around your house. With inexpensive Halloween projects like these, there's no reason each room of your house shouldn't be haunted with a ghost of its own.

It simply isn't Halloween without a pumpkin. Whether they're on your front step, around your wrist, or hanging on your wall, you need these pumpkin crafts to really put you in the spirit of Halloween. With these easy instructions, inexpensive materials, and incredible results, your kids will be Halloween craft happy!

Your Recently Viewed Projects