Apples for Teacher Ornament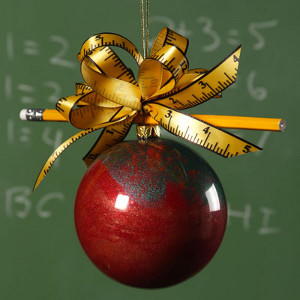 The Apple for Teacher Ornament is the perfect Christmas gift for a teacher you hold dear. It is a quick and easy craft that will be sure to put a smile on any teacher's face. Simply dip a glass ornament globe into red paint to create the apple. Tie a bow out of ruler-printed ribbon around the top of the ornament and a new pencil. This handmade ornament is a great way to spread some holiday cheer.
Materials:
Color Bazaar Pigments: Emerald, Gunmetal, Ruby
Color Bazaar Glass Objects: Glass Globe Large
Color Bazaar Tools: Plastic 6-Well Tray, Plastic Mini Spoons
Color Bazaar Sparkle Fuse
Disposable cup
Scissors
Newspaper
Decorative ribbon – 2 yards with ruler design
#2 Pencil – new, unsharpened
Pencil
Instructions:
Cover work surface with newspaper.
Pour Ruby, Gunmetal and Emerald Pigments into 6-well tray.
Remove topper from Globe and pour Sparkle Fuse™ inside. Swirl around until inside is completely coated. Turn upside down and set on a disposable cup to drain excess adhesive. Pour excess adhesive back into Sparkle Fuse™ bottle.
Use mini spoon to scoop Pigments inside Globe.
Cover Globe opening with thumb and shake and turn until pigments cover entire inside surface.
Let dry and replace topper.
Place #2 pencil through the topper.
Tie ribbon into a decorative bow and tie to top of Globe.
Celebrate the magic!
Your Recently Viewed Projects