8 Sweet Christmas Party Food Ideas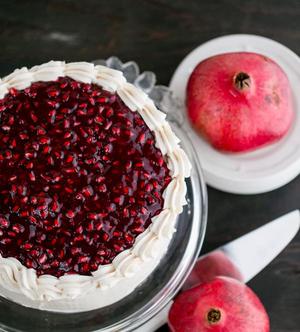 The holiday season brings a sleigh full of parties, and lots of them. Whether you're attending a party or hosting one, this collection of 8 Sweet Christmas Party Food Ideas will give you lots of sweet treats to try and enjoy. You've probably spent a lot of time decking your home out with festive Christmas decorations, but let's get real... holiday parties are all about sampling great Christmas party recipes!

This collection of recipes will ensure that you don't drop the ball on Christmas menu ideas and disappoint your guests. This December go beyond the usual cookie tray and eggnog punch bowl and try something new. All of these party food ideas will effortlessly work as either easy party snacks or after-dinner sweet treats.

A great thing about holiday parties is the spread of delicious goodies. It's even better when you're able to try a little bit of everything. Several of these Christmas dessert recipes are awesome because they're bite size. Nibble on some flavored chocolate or indulge in some gourmet truffles while you make your way around the party. Your taste buds will also be able to travel around the globe with some of these recipes. From Russian holiday bread to Greek baklava pastries, you can experience Christmas around the world right in your own home. Wrap these same treats up in a nice gift box and they'll also double as wonderful homemade Christmas gifts or as hostess gifts.

Of course, there's more on the menu at holiday parties than just food...there's also drinks! While your guests are waiting for the Christmas ham to finish cooking, they can sip on a delicious spiked holiday drink. For the little ones in attendance or for those looking for a non-alcoholic Christmas drink, you can offer some mugs of flavored hot cocoa. Especially if you're a person that needs something sweet after you finish a meal, then these Christmas dessert recipes are perfect for you.


8 Sweet Christmas Party Food Ideas
Table of Contents:
Delectable Christmas Party Food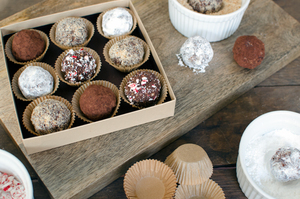 These delectable desserts are like little Christmas presents for your taste buds. Whether you enjoy rich chocolatey flavors, sweet coconut flakes, or gooey honey drizzles, all of these goodies will soon become the best Christmas dessert recipes that you've ever tasted. These treats are the perfect size for snacking on while waiting for Christmas dinner to be served, or the perfect sweet ending to an elaborate Christmas feast. When dreaming of Christmas menu ideas, don't even think about leaving these sweet Christmas dessert recipes off of your list.

---
---
Sweet Christmas Dessert Ideas

One of the best parts about making Christmas dessert recipes are the wonderful aromas that fills your home as you bake. This collection also includes some holiday drink recipes for your enjoyment. Enjoy a cup of steaming hot cocoa while you eat a slice of delicious holiday cake. Several of these Christmas party recipes would also make great homemade Christmas gifts. Maple Homemade Hot Cocoa makes an easy Mason jar gift. Simply layer the dry ingredients and tie a festive red or green ribbon around the jar. Your friends and family will savor every last sip and bite of this Christmas party food. No gift receipt needed.

---
---
Your Recently Viewed Projects