Fun Christmas Party Recipes: 25+ Christmas Food and Drink Ideas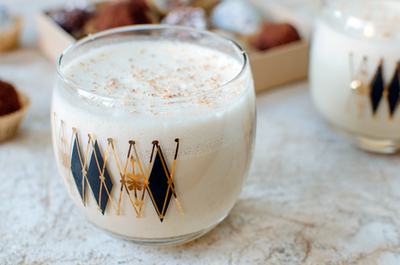 Food can make or break a party. You can make your guests feel warm and fuzzy inside or rumbly in their tummies. Your menu is sure to be a hit with these Fun Christmas Party Recipes: 25+ Christmas Food and Drink Ideas. You can stop worrying about what to serve your guests, because we have everything covered with this Christmas party food menu. Pair the foods with a drink to warm your guests against the winter winds. They will leave happy and full because of these fun Christmas party ideas.

There could be a blizzard outside or Old Man Winter literally banging down the door, and your guests won't even care. They're too busy eating and drinking the delicious spread you have laid out for them. You're too busy chatting and accepting the dozens of compliments with which they're showering you, because you are the master of the Christmas party. Your holiday party drinks and Christmas party foods are off-the-charts fantastic, and it's all because of this list. You're welcome.


Fun Christmas Party Recipes: 25+ Christmas Food and Drink Ideas


Table of Contents
---

Need to decorate for your Christmas party? Find everything you need in our FREE eBook: 7 Easy DIY Christmas Crafts: Make Your Own Ornaments, Wreaths, and More!
---
Your holiday party will go down in history with Rudolph when you serve any of these delicious Christmas party food recipes. Your guests will absolutely love everything they taste, and you will be the master of fun Christmas party ideas.
Make your guests feel welcome with a delicious drink! There is something for everyone to enjoy in this delicious list of holiday party drinks. They will go well with the food you serve and your guests will be asking you for your Christmas party drink recipes all night.
---

Find all of the best holiday crafts in our FREE eBook: The Essential Guide to the Best Holiday Recipes & Crafts: 20 Ideas for a DIY Christmas, Thanksgiving, & Halloween!
---
Your Recently Viewed Projects