When Should I Bring a Hostess Gift? + 10 Best Hostess Gifts
If you're questioning your knowledge of hostess gift etiquette, we're here to help and to suggest some good hostess gifts to bring.
By:
Sara Raffensperger, Editor, AllFreeHolidayCrafts.com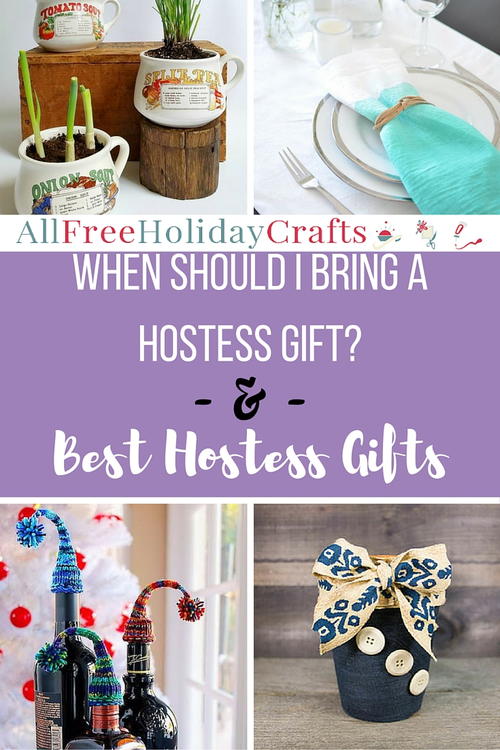 When Should I Bring a Hostess Gift 10 Best Hostess Gifts
When should I bring a hostess gift? You're probably wondering this often. It's the type of etiquette that can confuse the best of us. We're here to set you straight and hopefully you will never be wondering again just when you should bring a hostess gift. Once you've figured out hostess gift etiquette, we've collected our best hostess gifts for you to give to your generous hosts. Bringing a hostess gift is something that all adults struggle with. Should you just bring wine? What about a plant? If you wonder too much about this, you might end up being late for the party!

With our help, you will now be the hostess gift etiquette master. You are going to know exactly when you need to bring a gift and what kind of gift is appropriate. There are multitudes of social situations that adults need to navigate and sometimes we just aren't sure what we're supposed to do. If you do bring a hostess gift, don't worry about spending a lot of money. Your gift should be thoughtful and useful, but it doesn't have to be expensive in order to be appreciated.
When to Bring a Host Gift
Rule of Thumb: It's best to just always bring a little something for your host.
It's better to have brought a gift when you didn't need one than to show up empty-handed when you probably should have brought something. Whether it's a bottle of wine or a potted plant, it's always advisable to bring something with you. Your hosts are opening up their home to you, either for an overnight visit or just for dinner, but you can still show your appreciation with a small gift. Hostess gift etiquette is something that we all have trouble with from time to time, so read on to find out just when you need to bring one and the instances when you can arrive empty-handed.
Remember: the gift is for the host - not for you. If the host is vegan, don't bring a platter or meats and cheeses no matter how much you like those foods. You don't want to accidentally offend your host.
If you don't know your host that well, opt for a bouquet of flowers or a gift basket with items most people enjoy like guests soaps or small jars of jam.
Pro tip: Don't just pick up flowers on the way. They'll need a vase and will distract your hosts when their other guests. If you give flowers, make sure they come in a vase.

If you bring a gift to a dinner party, don't expect your gift to be served while you're there. What you give your hostess is a gift, not an accompaniment to the meal. If your host wants you to bring a dish to share, they will ask you when they invite you.
If the dinner party is at a restaurant, it generally isn't necessary to bring a gift. If the host is footing the bill for the entire party, a gift would be appreciated, though it doesn't have to match the price of the bill.

Holiday parties are the perfect occasions to bring some good hostess gifts. It's such a festive time of year that lends itself to gift-giving. Some ideas for holiday hostess gifts are an ornament or other holiday decoration, a basket of seasonal foods like teas or hot cocoa mix, or even a holiday-themed tin of candy or cookies.

If your host is kind enough to accommodate you overnight, your host gift should be a step up from a dinner party gift. After all, significantly more preparations have to be made for overnight guests. If you're traveling light and can't carry a gift with you, then taking your hosts out to dinner or paying for tickets to an event will suffice. 

If you're invited to a housewarming party, you should bring something suitable for the new residence. Consider buying something in a neutral color or style so it can go with any decor if you don't already know the color schemes of the house.
Some gifts to consider might be dishtowels, a tree sapling to be planted in the yard, a picture frame, or a boxed tool set for a new homeowner.
Pro tip: If the new homeowners have small children or if they're particularly busy, it might be better to bring a meal that they can freeze and eat another time when they just don't feel like cooking. You will seem thoughtful and they will think of your kindness when they are at their most overwhelmed.

So when don't you need to bring a hostess gift? Gifts aren't usually taken to large, formal dinners especially if you don't know the host well.
If you're going to a casual dinner party and you are close friends with the host and dine together often, then a gift isn't necessary. While they're always appreciated, you don't have to feel obligated in this case.
You never have to bring something very expensive, especially if you can't afford it. Your gift should be sincere and thoughtful, but it doesn't have to break the bank in any case.
Best Hostess Gifts
Now you know when you should bring a hostess gift (almost always), but what should you bring? We've collected a list of our best hostess gifts for you to make and bring to the next party you attend. All of these are good hostess gifts that won't empty your wallet, but they will be meaningful to your host.
Free projects, giveaways, exclusive partner offers, and more straight to your inbox!
Tags / Related Topics
Your Recently Viewed Projects
Images from other crafters


Something worth saving?
SAVE your favorite projects
ADD personal reminder notes
QUICKLY reference your projects