8 Halloween Party Games for Adults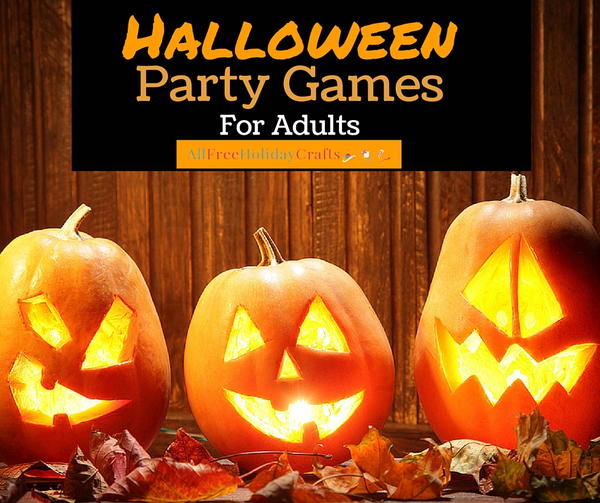 8 Halloween Party Games for Adults
Halloween isn't just a holiday for the kids. Throw a Halloween party for you and your adult friends and play these 8 Halloween Party Games for Adults. You'll love these Halloween party ideas, and you'll want to throw a Halloween bash every year after the success you'll have with these games. These Halloween games are fun ice breakers and trivia games with a haunted twist. If there's any time to bring out your wild side, it would be at a Halloween party. Try out these super fun Halloween games for adults, and your Halloween party will be remembered as the best for years to come.

When throwing your Halloween party, you'll want to be sure to decorate for the occasion. Some easy DIY Halloween decorations can go a long way especially when many of these games need a spooky atmosphere to be fun. Hang up a Haunting Halloween Mirror to add to the horror. You could also lay out creepy Halloween treats like Monster Googly Eye Brownies. Your ultimate Halloween party is just a click away, and you'll be having a blast this October before you know it.
8 Halloween Party Games for Adults
Let the Games Begin!
These fantastic Halloween party games are meant to loosen up your guests. From trivia to costumes contests, this list has several party games that will make your Halloween party the best around.
Murder Mystery Game:

Clue is a classic board game that all your guests have likely played, but have they ever enacted that evening in real life? Have your guests go on a hunt to find out who murdered the party's victim. It's a great opportunity for your guests to get in character and have some fun.

Halloween Movie Trivia:

Find out who knows the most about classic horror movies with this easy trivia game. From Psycho to The Exorcist, this trivia game will reveal who has the most Halloween spirit. 

Halloween Guess Who:

At the beginning of the evening tape a horror movie character or Halloween figure's name to the back of your guests. They can spend the remainder of the evening trying to figure out who they are.

Winking Murder Game:

Have all your guests' names in a bowl. Draw a name from the bowl to decide who the murderer is. If the murderer inconspicuously winks at a guest, that person must dramatically die in the next three minutes while the rest try to guess who the murderer is.

Pass It On Ghost Story:

Have all your guests sit in a circle with all the lights turned off. The person with the flashlight will start telling a ghost story. When the timer buzzes, the flashlight is passed on to the next person, and they have to pick up where the previous person left off. 

The Grave Keeper:

This is a backyard Halloween game. Designate one person as the Grave Keeper while all your other guests are zombies. When the porch lights are out, the zombies can roam, but when the Grave Keeper turns them on, the guests have to freeze. If the Grave Keeper sees a zombie move, that person is out of the game.

Chalk Outline:

Choose a couple of your guests to draw a chalk outline of on your driveway. Have the other guests try and figure out who the outline belongs to.

Costume Superlatives:

Of course, you can't have a Halloween party without a costume contest, but it can be so challenging picking out just one winner. Make costume superlatives such as "Funniest Costume," "Scariest Costume," or "Most Likely to Be a Horror Movie Character." Your guests will love the attention, and this way, everyone's a winner!
What was your favorite Halloween costume growing up?
Your Recently Viewed Projects