Dad Rocks Father's Day Card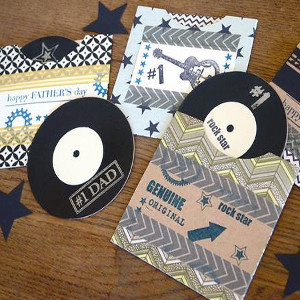 Dad Rocks Fathers Day Card
Of all the Father's Day cards to make, these rock the most. Dad Rocks Father's Day Cards will remind your dad of his glory days as a long-haired dude in a rock band; you know, back when he was dating your mom. This cool Father's Day card idea by Fiskars resembles a record in a sleeve. Maybe you used to poke fun at dad when he talked about the good old days of vinyl records, but it makes him happy to look at albums in his collection. Give him a mini version of one of his favorites. Follow these easy steps to make dad a rockin' retro card.
Materials List
Vinyl adhesive-backed paper
Patterned card stock
White card stock
Chip board
Double-stick tape
Washi tape
Stamps
Ink pads
Embossing power
Heat gun
Fuse Creativity System and circle design set (including XL/XXL circle squeeze punch and 1/4" circle hand punch)
Instructions
Use your Fuse Creativity System and circle design set to cut several circles from the vinyl adhesive-backed paper and chip board.

Punch several circles with the XL circle squeeze punch from white card stock. Punch a small hole in the center of each white circle with your 1/4'" circle hand punch.

Use double-stick tape to mount a small white circle in the center of each vinyl circle. Stamp sentiments using assorted rock and Father's Day-themed stamps. Use traditional inks on the paper center or embossing ink and powder on the vinyl part. Once the ink has dried or cooled, peel the backing off the vinyl paper and mount it on the chip board circle.

Cut a strip measuring 5" x 10.5" long from a sheet of patterned card stock. With your strip running horizontally, measure five inches from the left side and score vertically. Measure five more inches and score again vertically. Cut a notch from the first section using your XXL circle squeeze punch.

Fold on the scores to create your small square album sleeve. Use double-stick tape along the sides and bottom of the sleeve to seal it closed. Leave the top open so you can slip your album inside.

Use your stamps, washi tape, and embellishments to decorate your album sleeves.

Write a message on the back of each album and place it inside the sleeve and present your dad with a single or a vinyl stack that says, "Dad, you rock."
Your Recently Viewed Projects