25+ Decorative Crafts for Fall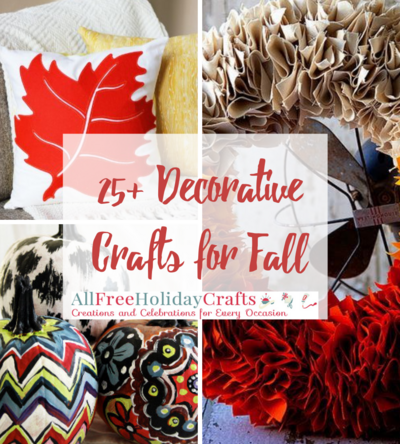 Before you know it, the air will have a bite to it, the leaves will start to change colors, and the days will get shorter and shorter. While the transition into fall makes us dread the looming winter cold, it also gives us an opportunity to soak up the natural beauty of the season. Use these 25+ Decorative Crafts for Fall to celebrate the stunning colors, shapes, and images that make fall the unique, beautiful season that it is. Fall is the best season because everything is changing into its most beautiful form. The trees explode into the shocking reds and yellows, and we can finally bring out the cozy sweaters and blankets we hid away during summer. Make your home just as beautiful with these fall decor ideas.

Look through these fall decorating ideas and spruce up your home with wreaths, leaves, and pumpkin decor. With this collection of fall ideas, you can bring some of the natural wonders of the outdoors into your cozy home. With browns, reds, and yellows, your home can have a magical autumn atmosphere.

Sign up for our free email newsletter for more holiday projects!
 
Table of Contents
DIY Wreath Crafts
A wreath on your front door can make all the difference. These DIY wreath crafts are a wonderful way to gather the beautiful elements of fall and post them up on your front door. Using leaves, twigs, and items found around your home and backyard, these DIY wreaths are inexpensive and easy to make. They give any home a rustic feel for the crunchy leaf season.
 
Crafts with Leaves
Leaves are probably the most magical part of autumn. We sit back and watch as they change into deep reds, bright yellows, and vibrant oranges. Eventually, they float gently to the ground and crunch under our feet as we take our brisk fall walks. Now you can craft with leaves and celebrate their wonderful beauty. Browse through this list and bring some of that colorful crunch into your home.
Pumpkin Crafts
Fall just isn't fall without at least one pumpkin on your stoop. These pumpkin crafts give you tons of ideas for painting pumpkins, using them as decor, and making them out of different materials. Make each of these pumpkin crafts, and place a pumpkin in each room of your house.
 
Your Recently Viewed Projects