Homemade Valentines: 26 Ways to Celebrate Love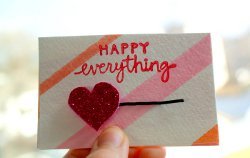 Valentine's Day is the one time of year that we can all express our love for our friends, family, and special sweethearts. On Valentine's Day, the greatest way to show how much you care is through the gift of a handmade valentine. We at AllFreeHolidayCrafts know how hard it can be to find the perfect project to prepare for your loved ones, which is why we have put together this collection of Handmade Valentine's. Our list, Homemade Valentines: 26 Ways to Celebrate Love, will give you enough inspiration to craft your way into your loved ones' hearts this February.

Spend a few hours showing the little ones how much fun making a handmade valentine can be and try out our selection of Handmade Valentines for Kids. If you need an idea on what to send your special little guy or gal to school with on February 14th, you can browse through a few of our extra creative tutorials on classroom valentines. With these ideas that cater to kids, whether your looking to craft with them or for them, we have the perfect project for you in our selection of Homemade Valentines: 26 Ways to Celebrate Love.

You will also need an inspired idea for your wife, husband, or significant others' handmade valentine, and we have found a handful of extra creative cards for your sweetheart. Show your main man or lovely lady how much love you have in your heart for them with one of these great Valentine's Day card tutorials. You won't have to worry about sending the kids off to school with generic cards, or purchasing something you would rather make for your special someone with the help of Homemade Valentines: 26 Ways to Celebrate Love.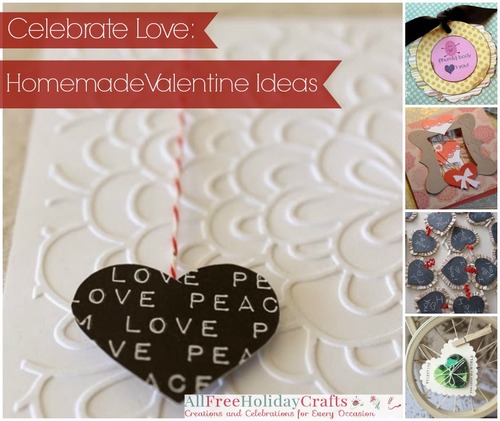 Celebrate Love: 26 Homemade Valentine Ideas


Table of Contents
Show your favorite person some tender love and care with a Valentine's Day craft they will remember. Choose from one our our great handmade valentine ideas to give your sweetheart something special that will show them how much you truly love them. Include your special sentiments on the inside of these homemade valentines to personalize these precious Valentine's Day cards.
Break free from store-bought cards and try to DIY your child's Valentine's Day cards this year. Kids love sharing valentines in the classroom, so give your little ones something unique to bring to class this year and make a stack of handmade valentines for their classroom. These great handmade valentines will be sure to impress the other kids, and make your young one feel extra special.
Looking for a fun way to spend some family time together during the holiday? Try a few fun card crafts for kids; they'll love to sit and make a few Valentine's Day cards for their best friends, parents, and siblings, and certainly appreciate your help. There are few things on Earth cuter than homemade valentines made by children, so anyone who receives one of these handmade Valentine's Day cards will surely keep them for years to come.
---
If you love these homemade valentines for kids, you'll love the Valentine's Day craft ideas in our updated collection of 25 Valentine's Crafts for Kids!
---
Your Recently Viewed Projects