11 Top Products for Easy Holiday Crafts
Regardless of what holiday you're celebrating, it is always a magical and joyous time spent with loved ones. In order to celebrate the right way, you must be sure your home is decorated accordingly. With all the holiday craft ideas out there, you're sure to find the perfect craft to whip up. Luckily with all the reviews we've done, you can read about each of the materials you might want to work with. Easy holiday crafts is what you'll want to look for because then you can turn your home into Marth Stewart's home for the holidays. From paper craft ideas to yarn art projects, the holidays are the perfect time to show off your love of crafting.
11 Top Products for Easy Holiday Crafts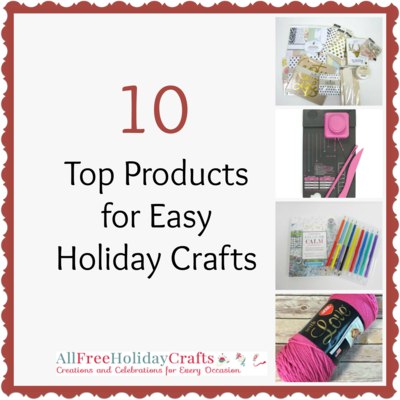 Products for Paper Crafts
Office Suite Paper Collection - Whether you're a scrapbook fanatic, enjoy making unique home decor items, or simply love journaling and embellishing, then you're going to love the Office Suite Paper Collection. From papers and embellishments to journals, decorative tags, goodie bags, die cuts and more, you'll easily fall in love with this collection.

Portable Color Me Calm Coloring Kit - Included in the kit is the Color Me Calm adult coloring book, twistable crayons, and double-sided colored pencils. Now I'm not really new to the crafting world, but each of these items is new to me and really "wow'd" me. The coloring book has 70 templates for meditation and relaxation. There are six chapters full of different coloring techniques and designs.

Fancy Pants Paper Collection - Within the Happy Place Collection are fantastic papers that I cannot wait to work with. From pastel colors to bold colors and from solids to prints, there are cute papers that I can work with for just about any project. With design names like Life is Good, My Happy, All Positive, With You, Here and Now, and Good Day, it's no wonder I'm excited to start off the New Year with a positive vibe.

North Pole Cardstock Assortment - Get in the holiday spirit by jazzing up your Christmas crafts. The Doodlebug North Pole Cardstock Assortment are festive prints and patterns that will easily add some spark to your holiday craft projects. You'll find all the accessories you'll need to add sparkling embellishments to make your holiday projects burst with Christmas cheer.
---
Read the full reviews for all the items listed on this page, as well as many other items right here. You know you're curious about items before you buy them, I know I read reviews before buying something because I only want what's best. We've done the dirty work for you.
---
Punch Board Products

Flower Punch Board - Printed, stamped, or plain, any piece of paper can be transformed using this great tool. The Flower Bunch Board contains a score board, two-way punch, scoring tool, petal curler, and helpful user guide.

Candy Box Punch Board - The Candy Box Punch Board from We R Memory Keepers makes it easy to create super sweet pillow boxes in a few minutes. With its straightforward instructions and user-friendly features, even people who are new to making their own gift wrap will get the hang of this nifty tool.

Gift Bag Punch Board - This tool allows you to punch and score custom gift bags in three sizes. These sizes give you flexibility to fill your handmade gift bags with treats like candy, gift cards, or small toys and trinkets.
Products for Yarn Crafts
Red Heart Holiday Yarn - One skein of yarn weighs 3.5 ounces and is 235 yards. This yarn is worsted weight, so it is perfect for most projects. With metallic glitter strands woven throughout, this yarn will make any project, pattern or craft shine.

Red Heart With Love Yarn - Red Heart With Love yarn is unlike any other acrylic worsted yarn you've seen. It's thick and sturdy but not scratchy. Plus, it comes in 28 distinct colors! Red Heart With Love yarn is soft, pretty and perfect for afghans!

Aunt Lydia's Classic Crochet Thread - Each skein provides you with 350 yards of yarn, so you will never run out; there is a ton of yarn in one skein for loads of crafting fun. Aunt Lydia's Classic Size 10 Crochet Thread is made of 100% mercerized cotton.

Lion Brand Holiday Homespun Yarn - Homespun is spun with a ply of metallic silver and gold and adds just the right amount of sparkle. Holiday Homespun comes in two palettes of Victorian and Traditional bright holiday colors, allowing you to work up the perfect holiday crafts and decor.
---
We know you love all things crafting related, so check out what you can win! We're always giving away free goodies because we love seeing happy crafters. It's time to add more supplies to your craft room, so get on it!
---
Your Recently Viewed Projects