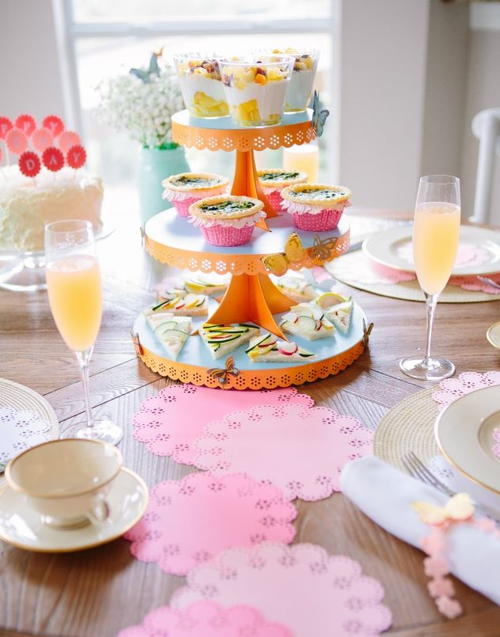 Brunch for Mothers Day
Your mom is a special lady who deserves to be treated as such. Celebrate her with a Brunch for Mother's Day. Have yummy treats and mimosas surrounded by doilies and pretty decor. It's a day to celebrate your mom who does and has done so much for you over the years. Show your appreciation and love for her by surprising her with a Mother's Day brunch. She will absolutely love the thought, care, and effort you put into making her happy this May. You can even invite your mother-in-law and include her in on the fun!
Time to CompleteWeekend project
MaterialsFood, Mixed Media
Primary TechniqueFood Crafting

Surprising Facts About Mother's Day
Mother's Day is a wonderful holiday to celebrate one of the most important women in your life. You may never know all that your mother did for you as you grew up, and you should definitely acknowledge it more than just once a year, but Mother's Day is designed just for her. I thought Mother's Day was a "Hallmark holiday," but it has a much different history than I assumed. While you're sitting at your brunch for Mother's Day or working on your Mother's Day crafts, bring up the strange history you're about to learn and have a fun conversation with your mom about this interesting holiday that's all about her.
Anna Jarvis was never a mother herself, but her own mother's death inspired her to organize the first Mother's Day observances in 1908. Largely through Jarvis' efforts, Mother's Day came to be observed in a number of cities and states until Woodrow Wilson officially set aside the second Sunday in May in 1914 for the holiday.
Mother's Day originally wasn't to celebrate all mothers; it was to celebrate the best mother you've ever known - your own mother. That's why the holiday is called "Mother's Day," rather than "Mothers' Day."
Anna's idea for an intimate Mother's Day became a commercial gold mine focusing on the buying of flowers, candy, and greeting cards, which deeply disturbed Jarvis. She then spent most of her life trying to fix what she saw as a hijacked holiday. She was dedicated to returning Mother's day to its reverent roots; however, we know that Anna Jarvis eventually failed because Mother's Day continues to roll on as a consumer holiday.
If you'd rather have an intimate holiday celebrating the wonderful woman who is your mom, step-mom, mother-in-law, grandmother, or aunt, you can make something beautiful together like these Mother's Day crafts. Instead of spending a lot of money on her, you can give your mom something heartfelt that you made yourself. Just remember to tell her you love her and you appreciate all she's done for you.
Your Recently Viewed Projects