9 Fall Crafts and Fall Decorating Ideas
Bonus: Get our newsletter & special offers for free. We will not share or sell your email address. View our Privacy Policy

Frisky Fox Figurine
If you're looking for fun fall craft ideas, then the Frisky Fox Figurine is the perfect craft for you. This easy tutorial teaches you how to make clay figures that are so cute, you'll want to make hundreds. Make multiple little foxes and set them up around the house for a fun fall decoration. If you need some table decorations, then these would be perfect to use as centerpieces. Break out your fox friends for all of fall and Thanksgiving too. They're sure to be a hit whenever you use them.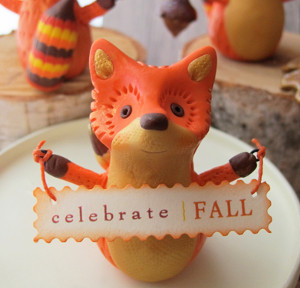 Materials:
Clays:
Premo! Sculpey®, 2 oz , Cadmium Yellow Hue - 1 block
Premo! Sculpey®, 2 oz , Cadmium Red Hue - 1 block
Premo! Sculpey®, Kit, Orange - 1 block
Premo! Accents®, 2 oz , Bronze - 1 block
Premo! Accents®, 2 oz , 18K Gold - 1 block
Premo! Sculpey®, 2 oz , Burnt Umber - 1 block
Tools:
Sculpey® Clay Conditioning Machine
Sculpey Technique Design Blocks
Sculpey Clay Tool Starter Set
Sculpey Style and Detail Tools, Set of 3
Sculpey Super Slicer
Additional Supplies:
Mini heart cutter
1 1/2" Oval shape cutter
Black eyelets
Toothpick
Gold powder - optional
Small circle cutter - optional
Instructions:
Do not use unbaked clay on unprotected furniture or finished surfaces. Start with clean hands and work surface area. Good work surfaces include wax paper, metal baking sheet, or disposable foil. Knead clay until soft and smooth. For best results, clean your hands in between colors. Shape clay, pressing pieces together firmly. Bake on oven-proof glass or metal surface at 275°F (130°C) for 30 minutes per ¼" (6 mm) thickness. For best baking results, use an oven thermometer. DO NOT USE MICROWAVE OVEN. DO NOT EXCEED THE ABOVE TEMPERATURE OR RECOMMENDED BAKING TIME. Wash hands after use. Baking should be completed by an adult. Begin by preheating oven to 275°F (130 °C). Test temperature with oven thermometer for perfectly cured clay. For best results, condition all clay by running it through the Clay Conditioning Machine several passes on the widest setting. Fold the clay in half after each pass and insert the fold side into the rollers first.



Mix together Orange and a small amount of Cadmium Red. Use your hands to roll out a 2" high bowling pin shape out of the mixed clay. Then with your pointer finger and thumb pinch out two ears and a snout. Take your 12mm stylus tool and make indents on each side of the nose for the eyes. With the 2mm stylus tool make the eyes holes and tear drop shape for the ears.



Run a piece of 18k Gold clay on the #6 setting of your conditioning machine. Cut out an oval shape with your 1½ oval cutter for the under the nose/belly of the fox. Attach the oval shape under the nose and drape the rest over the belly and burnish it down with your finger. (If your oval is too big trim the oval down. If the oval doesn't reach the bottom of the fox you might want to stretch out the oval to reach.) Roll two small tear drop shapes for the insides of the ears.



Mix together a piece of Burnt Umber and Bronze clay and run a small piece on the #6 setting of your conditioning machine. Use your mini heart cutter and cut out two hearts and attached to the back of the ears. Then roll with your fingers two small balls for the eyes and a ball for the nose and attach.



Take your clay knife tool and create texture on your fox to represent fur, around the eyes and all over the back of your fox.



Cut a toothpick in half. Apply Sculpey Bake & Bond to the end of each piece and insert into the side of your fox (for the arms). Mix together another small piece of Orange and Red clay to match the color of the fox and run your piece on the #5 setting of your Clay Conditioning Machine. Cut a square piece the length of the fox arm with your Super Slicer, then apply Bake and Bond to the arm and wrap the clay and press. Use your slicer to trim excess clay off. Repeat for second arm. Roll two small balls with a piece of the mix bronze & burnt umber clay and attach it to the end of each arm to create hands. Use your clay knife tool to make fingers.



Cut down your Black eyelets to about 3/4" long. Save excess part for later. Apply Bake and Bond and insert in to each arm.



Roll out a tail shape proportional to the size of your fox with scraps of clay.



Take a piece of Red, Orange/Red mix, Yellow, Burnt Umber/ Bronze mix and 18k Gold and one at time run the piece through the #1 setting of the conditioning machine. To vary the size thickness you can run a few colors in the #3 setting as well. Take your super slicer and cut 1/8 slices of each color and stack them so they are the length of your fox's tail.



Run the piece in the #5 setting of your condition machine. Cut piece large enough with your super slicer so it will wrap around the tail. Then take your Dragging tool and start at the top of your stripes and drag down your clay creating the dragging texture



Decide which color end you want the tip of your tail color to be, then take a piece of that color clay and apply a piece to the top of the tail. Now wrap your texture around the tail and blend together. Flatten the end of tail and apply some Bake and Bond and attach to the bottom of the fox. For add strength insert the extra wire from the black eyelet into the tail.



OPTIONAL: If you want a base use a small circle cutter. For a little gold sparkle brush some gold powder pigment on the fox. Bake as directed above.
Create some greeting messages on the computer. Cut out with scissors and punch holes, string color wax twine and tie them to the eyelets.
Free projects, giveaways, exclusive partner offers, and more straight to your inbox!
Tags / Related Topics
Your Recently Viewed Projects
Images from other crafters


Something worth saving?
SAVE your favorite projects
ADD personal reminder notes
QUICKLY reference your projects