Never-Ending Pop-Up Card Tutorial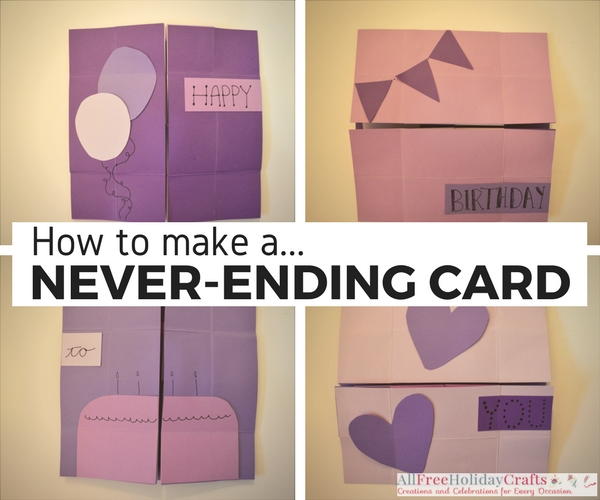 Help your loved ones celebrate a never-ending birthday with one of the coolest card-making tutorials of all time! A perpetual party may be impractical, but with some cardstock and adhesive squares, you can easily make a Never-Ending Pop-Up Card at home in about an hour. This card uses a free printable template and strategic creases to allow the recipient to continue folding it into itself for an ongoing birthday treat unlike any other card. Plus, with these cool birthday cards, you don't have to worry about messing up your materials with glue; by using adhesive dots, you won't wrinkle the paper and you can easily peel off any mistakes. Get birthday-ready with this fun paper craft and birthday card template today!
Time to CompleteIn an evening
Primary TechniquePaper Crafts

Materials List
Cardstock
Scissors
Ruler
Adhesive dots
Pencil
Decorating supplies
Instructions
Cut four square pieces of cardstock. This card will work with any sized square, but for this example, the squares were 6" x 6". Then, cut each square in half down the middle. In this example, that creates eight 3" x 6" pieces of cardstock.

Fold one rectangle lengthwise (hot dog-style) down the middle. Use the edge of a spoon or your fingernail to go over the fold a few times so it is crisp and strong. Unfold the paper and repeat this process on all rectangles.

Find the middle of one rectangle using a ruler (in this example, that is at the 3" mark) and draw a small line with a pencil. Then, fold the edges into that line, creating crisp folds. Repeat on all rectangles. Note: You do not need to put a fold down the middle.

Once your eight rectangles each have three fold lines (one horizontal and two vertical), unfold everything and pick two rectangles to go together to make one face of the card. Push the two rectangles together to make a square. Then, attach an adhesive dot to the four outer corners.

Select two more rectangles and attach them onto that square with the adhesive dots you applied, alternating the direction. You should now have two horizontal rectangles below two vertical rectangles attached together by their corners.

Fold out the inner panel of the top rectangles. It may feel hard to fold, but you're aiming to use the fold lines you already created, so be sure to follow them; make the creases stronger with the edge of a spoon or your fingernail.

Repeat the process by adding two more rectangles on top, like you did in Step 4, alternating the direction and adhering with adhesive dots in the four corners.

Fold out the inner panel of the new top rectangles. Repeat the process again by adding two more rectangles on top, alternating the direction and adhering with adhesive dots in the four corners. You now have all rectangles attached by their corners stacked into a square.

Everything is now attached, and you can begin folding the card into itself to help strengthen the creases. While holding the card, reach onto the back and grab the free rectangles, folding them toward the front. Alternately, you can open the card from the front line and fold those edges back; it's all about which way you want the card to move. Repeat this process, using your fingernails or the edge of a spoon to make the creases stronger each time.

Once the card moves easily, add your decorations. Remember anything covering the open center fold needs to be cut in half so the card can continue to open. Continue folding the card and adding more decrations, creating creases over any embellishments that cover a fold line. When done, fold the card back to the beginning and give it to your favorite birthday boy or girl!
Your Recently Viewed Projects