12 Easy Baby Shower Games
By:
Kaylee, Editor, AllFreeHolidayCrafts.com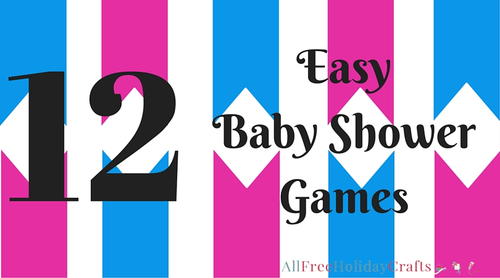 Easy Baby Shower Games
Some of the most memorable and hilarious parts of a DIY baby shower is when your guests bond over a silly game. That is why we have created this list of 12 Easy Baby Shower Games. When it comes to throwing a baby shower, it is hard enough to decide what kind of baby shower food to provide, where to throw the party, and how to decorate. The added stress of planning activities for the afternoon can be extremely exhausting. That is why where this list of last-minute baby shower games comes in handy. Unlike more complicated ideas, these quick and easy baby shower games are easy to plan and easy to prepare with little to no effort. Give the guests endless amusement and give yourself a break from entertaining by trying out these insanely quick, easy baby shower games. In fact, these easy baby shower game ideas are all so simple that you can even prepare them the night before a shower.

With minimal supplies required, each easy baby shower game in this collection make a great last-minute addition or back-up idea just in case you're afraid there might be a lull in the party. Sometimes throwing a baby shower can be a little harrowing, not to mention awkward with new moms mixing friends and family into one big party. Not everyone knows one another, so fun baby shower games can be an awesome way to break the ice and lighten the mood.
If you are planning a baby shower, check out our all-inclusive guide on how to plan the perfect DIY baby shower! From location to DIY baby shower favors, this guide has it all: How to Plan a Baby Shower
Fun Baby Shower Games: Trivia
If you are looking for low key baby shower games that do not require too much activity for your guests, these ideas are the ones for you. Trivia games are a great way to start a conversation and definitely break the ice. There are several ways to play these trivia games. You can go low key with quiz cards at each table, get the whole group to play and award small prizes per person, or have tables play against one another.
Celebrity Baby Trivia

This baby shower game is best played with a younger crowd who enjoys a good bit of pop culture. In order to play Celebrity Baby Trivia, all you need to do is select or gather a list of celebrity parents and the names they gave their bundles of joy. The best facts to gather for this one are those weird celebrity baby names.

Alternative Idea: Create a short and simple true or false game with weird celebrity baby names with some hilarious and made-up names thrown in.

Celebrity Moms and Dads Trivia

This celebrity trivia game works better with an older crowd. Much like the above option, all you need to prepare for this baby shower game idea is collect some trivia info before the game. Compile a list of celebrities and their famous children. This obviously works better if the parents and children do not share the same last name!

Tip: The parents don't have to be celebrities for the game to be fun! Collect trivia from the mother-to-be's childhood and play the same game, but with a person you know.

Baby Animal Quiz

Print out pictures of baby animals and have your guests guess what kind of animal that cute little fuzz ball will grow up to be. This is a great little trivia activity to place off to the side of the shower, giving guests something to chat about and check out at their leisure.

Baby Pictures Guessing Game

This is just like the game above but features your guests! Before the shower, collect baby or childhood photos of some of the guests to display. Number each photo and display it at the baby shower and allow guests to take a guess as to who the cutie is in the photo. At the end of the shower, reveal the names!

Tip: If you are having a hard time finding photos or want to surprise guests, check their social media for Throwback Thursday or #tbt posts!

Children's Book Trivia

Children's books are some of the most important stories in our lives! These tales and characters stick with us for a very long time. Compile some trivia questions that have to do with the authors, characters, photos, and stories in famous kid's books.
Unique Baby Shower Game Ideas
These unique baby shower game ideas take just a little bit more preparation, but they are worth it. Make your DIY baby shower a celebration people will never forget with these fun baby shower games for your guests.
Blind-folded Diaper Change

If you want to really get a laugh in, try out this hilarious idea! Bring a set of diapers and baby dolls to the party and then have attendees try and put the diapers on while blindfolded. This baby shower game works best when you have a few people race while the rest watch.

Bonus: If you want to make this extra difficult, spin contestants around to make them a bit dizzy before they try to put the diaper on.

Baby Food Taste Test

This one is pretty self-explanatory. Buy some baby food jars, remove the labels, and have your guests try and guess the name of each food. This is a particularly hilarious game if you can get ahold of some interesting and just plain yucky baby food flavors.

If you would rather not eat baby food, have people name as many different baby food flavors as they can. Whoever has the most, wins!

Baby Supplies Price is Right

It can be surprising how expensive baby supplies can be! Give guests a shock by playing the Prince is Right with baby supplies. You can either play by the traditional rules or set out the supplies and allow guests to make their guesses by writing them down.

Tip: Have your guests bring these supplies in as extra gifts the mom-to-be can take home after the party!
Easy Baby Shower Games for a Group
Sometimes you are planning a baby shower and the guest list ends up being way too big to play any interactive games. If you are throwing a big shower and only have a little time to plan, try out easy baby shower games that can be played sitting down or while the shower festivities are going on.
Forbidden Word

Can your guests get through an entire baby shower without saying the word baby? This game will help you find out. As soon as guests walk in the door, tell them the word "baby" is banned. If they say it, have guests stick a sticker on their shirt, wear a bracelet, or even have to put some money in a jar.

If you want to play the game a little differently, make the mother's name the taboo word!

Due Date Guessing Game

If you have a huge baby shower crowd and need something that is low key, consider trying out a due date guessing game. In order to do this, you will need a calendar or note cards and a place to lay them out. From there, instruct guests to sign the date they think the baby is due. This works best if the mom has not announced it too many times. You can also raise the stakes and have everyone who takes a guess place a dollar in a jar.

Baby Name ABCs

This is a game your guests can play at their tables. All you need to do is print out a sheet of paper listing the alphabet with a letter on each line. Guests then race to see who can come up with a baby name for each letter. Guests can play this individually or they can play by table.

Awesome Idea: If you are releasing guests table by table to grab food at the buffet or they are being served, have tables compete for who gets to eat first.

Present Bingo

If you're having a large shower, the present opening process can get pretty long. To keep the excitement up the entire time, download these bingo cards with various baby gifts on it. There are four different cards with the same gifts, but in different places on the cards. The first person to bingo gets a prize (or just bragging rights).

Click here to download and print free bingo cards!
Know of a great baby shower game? Explain the rules to us in the comments and we will add it to the list!
Free projects, giveaways, exclusive partner offers, and more straight to your inbox!
Tags / Related Topics
Your Recently Viewed Projects
Images from other crafters


Something worth saving?
SAVE your favorite projects
ADD personal reminder notes
QUICKLY reference your projects