Stunning Beaded Easter Cross
When crafting for Easter this year, why not use Isaiah 1:18 as inspiration for your Easter decorations? This Stunning Beaded Easter Cross is the most gorgeous decoration you can make to remind your family of the message of the holiday, and you can display it just about anywhere in your home. This easy bead project is too charming to miss, and you might just love this religious Easter craft so much that you'll leave it out for the rest of the year.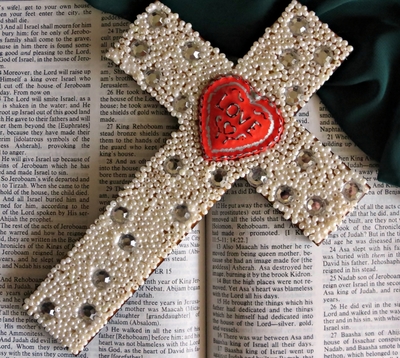 Materials:
Unfinished rectangular wooden cross
1 white heart, made from Plaster of Paris or similar
0.3" wide rhinestone stickers
Pearl seed beads
Red and black colored felt-tip pens
Thin paintbrush
Pilot silver marker pen
Plaid Royal Coat Dimensional Magic
Clear-drying wood glue (such as Qualigrip)

Instructions:
Use the red felt-tip pen to color the Plaster of Paris heart and let it dry thoroughly.
Use the black and silver pens to add some detail to the Plaster of Paris heart and let it dry.



Cover the top and sides of the heart with a thin layer of Dimensional Magic and allow to dry for several hours.
Use the paintbrush to add a layer of glue to the front of the cross.
Add the Plaster of Paris heart to the front of the cross.
Add the rhinestone stickers in a random manner.
Cover the rest of the cross with seed beads, carefully gluing the beads all around the heart. Remember to check that at the edges the beads fit in nicely.



Allow to dry thoroughly.
Your Recently Viewed Projects