Spring Flowers DIY Clipboard
Moving spring cleaning to the top of your to-do list is easy with this Spring Flowers DIY Clipboard. Spring craft ideas that give you a gorgeous way to stay organized are an absolute must in a busy household. While we think you'll love this organizing idea enough to keep it for yourself, this DIY clipboard would also make a thoughtful gift for a teacher or a friend. Each time you use this adorable clipboard, you'll feel refreshed by the bright spring colors!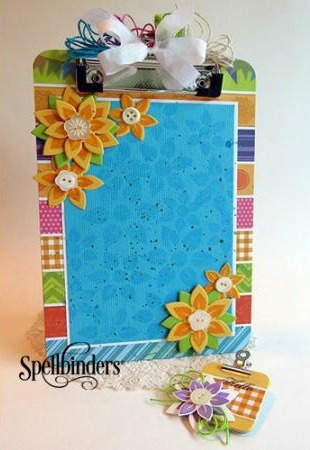 Materials:
SCSD-008 Just Because
SCP-016 Celebra'tions™ Prints
SCP-017 Celebra'tions Assorted Solids (12x12")
SCI-002 Sea Spray
SCI-011 Totally Tangerine
SCL-001 Cool Caribbean
SCL 003 Luscious Lime
SCT-001 Celebra'tions Linen Thread
GC-001 Spellbinders® Grand Calibur® Die Cutting and Embossing Machine
White Cardstock
Paper Trimmer
Scissors
Adhesive
White Ribbon
White Buttons
Nail File or Sand Paper
Instructions:
Measure out the patterned paper to 6 x 9" to cover the front and back of the clipboard. Carefully cut the top piece out to fit and glue on front and back. Trim the corners and sand around all the edges with a nail file or sandpaper.
On a piece of 4¾ x 7" Cool Caribbean cardstock, stamp with all three sizes of the flower image stamps from the Just Because stamp set with Cool Caribbean ink to create a background pattern. Mat with Whirl White cardstock and adhere to front of clipboard.
Cut two Flower 1 die, two Flower 2 die and two Flower 3 die (the smallest size die is #1) from the Just Because set with Delightful Daisy cardstock in the Grand Calibur Machine. From the same set, stamp inside each of them with Flower 1 image in Odacious Orange ink. Glue together. Cut two Flower 3 die from Pixie Play cardstock and use them as leaves by adhering on the bottom of two of the largest flower die cuts. Glue buttons in the centers and glue on clipboard.
Splatter Cool Carribean and Luscious Lime Silk Luster on the top of the clipboard. Let dry.
Tie bows with each of the colors of Celebra'tions Linen Thread and glue to the top. Make a double white bow and glue in front on the top.
Add a cute memo pad or custom pen to the ensemble and it's ready to give.
You can also make up a smaller version that can be a pin for the teacher to wear with their name or write welcome. The sample is made with a chipboard scrap with the same papers. Just add an adhesive pin on the back.
Your Recently Viewed Projects