Themed Party Ideas You Wish You Thought Of
You're going to become a legendary party host with our list of party theme ideas.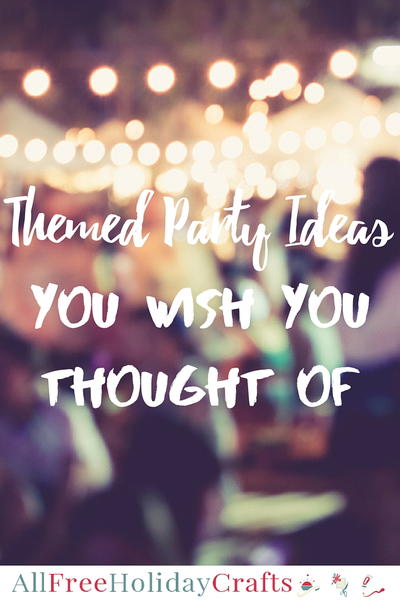 Themed Party Ideas You Wish You Thought Of
There's a cause for celebration - hooray! Let's celebrate the good news with a theme party. Theme parties are so much fun because they involve guest participation and it's more fun when everyone is involved. With our collection of Themed Party Ideas You Wish You Thought Of, you'll be sure to have the best party theme ever. Themes for parties don't have to be elaborate or expensive to decorate. Sometimes it's just fun to ask people to show up in costume even though it's not Halloween. Our themes for parties are going to blow your guests' socks off, so get ready to par-tay!

There are so many themed party ideas and we have compiled the best ones. You are about to throw a party that no one is going to forget. No matter what you're celebrating the night is going to be perfect. Your friends are going to ask you to host parties all the time because no one is going to be better at theme party ideas than you. You're one of the greatest hosts because you know exactly how to host the best party where everyone will have a lot of fun.

Join our crafting community! Click here to subscribe to our free eNewsletters!
Party Theme Ideas
Themes for Parties
Thrift Shop
This one might be my favorite because of my neverending love and passion for thrift stores. This party theme is also really simple. Ask all of your guests to wear the weirdest and wackiest clothes they found in a thrift store. Nothing is out of bounds. It's a lot of fun to see what insane outfits your friends will find and that's all there is to this party theme.

You could have a contest with a small prize (perhaps something else you found at a thrift store) for the person with the best thrifty finds.

Graffiti
Spray painting a building is a bit illegal, but throwing a graffiti party is super fun. All you need are highlighters or fabric markers, butcher paper, and for your guests to wear white.

Line your walls with the butcher paper so that your guests can draw on them. Hand all of your guests a marker and let them graffiti the walls and each other's white T-shirts.

It Used to Be Cool
Some of us shudder at the thought of acid wash jeans or wearing pants that say "Juicy" on the backside, but those used to be the cool thing to wear! Have your guests come in the out of style clothes that they still have in their closets. It'll be a lot of fun to see what people used to think was cool!

Alphabet Soup Party
Throw a party themed around one letter of the alphabet. For example, if you chose "S," then ask people to bring and wear things that begin with "S." You can wear a silver skirt, a striped shirt, and sunglasses while you drink sangria and eat strawberries.

It's a fun party theme idea that will get your creativity flowing! Make it a tradition and pick a new letter out of a hat at the end of each party (good luck with X!).

Color Party
This is similar to the alphabet party theme, but instead of a letter you choose a color. Pick a color at random like blue and dress, decorate, and serve food and drinks that are blue. This would be a fun idea for a baby shower or a bridal shower if you know the wedding colors.

Back to Prom
No matter what decade you went to prom in, it was probably a fun (and slightly awkward) time. Have fun recreating prom movie tropes like big hair and dresses, spiked punch, and awkward slow dances. You get bonus points if you actually have it in a high school gym.

Blind Taste Test
You can have your guests bring something for everyone to try or you can provide everything yourself. This isn't supposed to be an opportunity to get your friends to eat worms; rather, try and get them to guess what type of wine, chocolate, cheese, etc. that they just tried.

Give everyone a paper and pencil so they can record their guesses and do a big reveal at the end. Maybe even include a prize for the person who gets the most correct!

Cookie Swap
This doesn't have to just be a holiday party. Cookies are delicious every day of the year. The way it works is you have everyone RSVP and tell them to make 2-3 cookies for everyone on the guest list. They'll end up making a lot of cookies, but they'll also get a lot of cookies in return.
Don't forget to have milk on hand!

Murder Mystery
This party theme idea might take a little more planning, but it will be so worth it and a lot of fun for guests. As they work through the clues and try to solve the mystery, serve a fancy dinner with cocktails.

They might have to get out of their seats to solve the murder mystery, so this is one party theme that definitely requires finger foods and foods that can easily be carried around.

Rubik's Cube
When you're getting dressed for a Rubik's Cube party, you have to make sure that your entire outfit from your shirt down to your socks are a different color (like the colors on a Rubik's Cube). Then as the party goes on, you have to swap clothes with people of other colors until you have an outfit of just one color.

Pro tip: Wear clothes you don't mind never seeing again.
Your Recently Viewed Projects