"8 Halloween Kids Craft Ideas: Celebrate With These Fun Halloween Activities" eBook
By: Rachel Bernstein, Editor for AllFreeHolidayCrafts
8 Halloween Kids Craft Ideas: Celebrate With These Fun Halloween Activities eBook
This fall get the whole family together and make some of the fun and easy Halloween crafts included in this eBook of 8 Halloween Kids Craft Ideas. Inside you'll find spider crafts, ghost projects, treat bag tutorials and more ways to celebrate with fun Halloween activities for children of all ages! Imagine how much fun you'll all have crafting and spending quality time together while also creating festive decorations for your home for Halloween! Now that's what we call multi-tasking!

Take Your Pick: Scary or Cute Halloween Kids Craft Ideas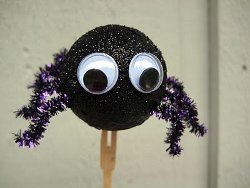 Now, anyone with kids knows that keeping them entertained can sometimes pose a challenge, but with this collection of easy Halloween crafts, they'll be busy nearly every weekend this fall with a different craft project! Whether they're into spooky ghouls or creepy critters, there are many different designs to choose from in this eBook of 8 Halloween Kids Craft Ideas. For those who like monsters and more scary Halloween characters, be sure to check out the Frankenstein-inspired Halloween Treats Jar (pg. 10) and the Styrofoam Spider Creatures (pg. 13) which can be used as toy puppets or, alternatively, strung together on a garland for a Halloween decoration that will make guests leap right out of their shoes! We love Halloween kids craft ideas that give you a good scare!

If your little one is a bit more apprehensive about scary things, there are also plenty of easy Halloween crafts for them to enjoy in this collection of Halloween kids craft ideas. Take a look at the Halloween Noise Makers project (pg. 11), which is a fun toy that they can decorate with their own Halloween-themed design. Also be sure to check out the friendly Laced Up Jack O' Lanterns project (pg. 5), which is a great beginner project that's more cute than scary!

Choose a Technique from a Variety of Halloween Kids Craft Ideas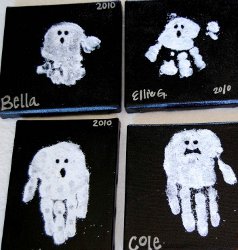 There are also a variety of crafting techniques included in this collection of fun Halloween activities. From painting to paper crafts and everything in between, there are plenty of ways for your children to explore their creativity in this eBook of 8 Halloween Kids Craft Ideas! Some of these easy Halloween crafts, like the Laced Up Jack O' Lanterns (pg. 5), help teach kids useful skills while others allow them to become designers in their own right, creating cool and fashionable bags to take on their trick or treating route (see the Glow in the Dark Trick or Treat Tote tutorial on page 8).

If you're looking for easy Halloween crafts that your kids can get a bit messy with, we have several projects that fit the bill. After all, Halloween is all about being a little "out there" and expressing your creativity in different ways. So for those who want fun Halloween activities that may get your hands a little bit dirty, we'd suggest taking a look at the paint-and-glitter-inspired Handprint Ghosts project (pg. 6) and the Glow in the Dark Trick or Treat Tote craft (pg. 8). Both of these easy Halloween crafts are perfect for expressing kids' creativity through hands-on projects.

Eco-Friendly Halloween Kids Craft Ideas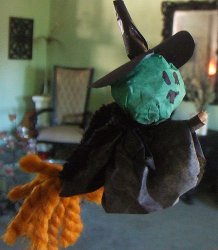 If you're less into paint and glitter and more excited about eco-friendly art projects, there are also several Halloween kids craft ideas in this collection that make use of recycled materials or supplies you have around the house that would otherwise go to waste. Have some empty concentrated juice cans lying around? Guess what? There's a Halloween craft for that! Learn how you can turn those recycled cans into fun and festive Halloween Noise Makers by following the tutorial on page 11. These noise makers would be a blast to carry around while trick or treating; that way your kids can announce their presence when they walk up to the neighbor's door!

Recycled cans aren't the only household supplies that can be turned into exciting Halloween kids craft ideas. Believe it or not, you can also turn ordinary coffee filters into cute-as-a-button witch "ornaments". To find out how to make these easy Halloween crafts with your own kids, simply flip to the tutorial on page 14 of this Halloween Kids Craft Ideas eBook! But wait, there's more! We've also included one of our favorite fun Halloween activities that only requires a few supplies, the main one being ordinary facial tissues. Intrigued by this idea? Just jump to page 7 of this eBook and you'll see what we're talking about! Get ready to be amazed by the fun Halloween activities you can come up with using everyday household supplies! You'll never look at items in your supply closet the same way again!

Inexpensive Halloween Kids Craft Ideas
That's what's so great about the Halloween kids craft ideas included in this free eBook. Most of them can be made pretty inexpensively. After all, paper and glue can be bought at the local dollar store and you probably already have markers and paint lying around, so there's not much in the way of supplies to buy. So this autumn, rather than spend a bundle on a family outing to the movie theater, why not spend the afternoon doing some of these fun Halloween activities together? You can save a bunch of cash when you opt for these cheap and easy Halloween kids craft ideas instead of other pricey entertainment options!

Halloween Kids Craft Ideas to Decorate Your Home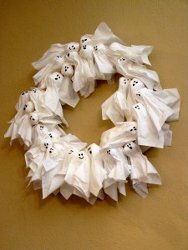 Did we mention that many of these Halloween kids craft ideas also double as decorations for your home? So not only are these fun Halloween activities a cheap form of entertainment for your family, they're also a great way to spruce up your home for the holiday! Whether you're looking to deck the house out with spooky ghosts or cheery jack o' lanterns, there are lots of options for Halloween decorations included in this eBook of 8 Halloween Kids Craft Ideas.

We especially love the Tissue Ghost Wreath (pg. 7) and the Styrofoam Spider Creatures (pg. 13) that can be strung together to create a creepy garland for your living room! Another really cute idea to make if you have young children are the Handprint Ghosts (pg. 6). Not only are these fun Halloween activities where the kids can get a bit messy with paint and glitter, they're also memorable keepsakes that you can display year in and year out in your home. Imagine years down the road when you look at these ghost images and can reminisce about when your kids' hands were that tiny. What a special project!

Halloween Kids Craft Ideas for Every Skill Level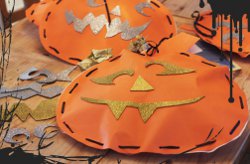 No matter what age your children are, we were sure to include Halloween kids craft ideas for all skill levels in this eBook. For the youngest crafters, we'd suggest trying out the Laced Up Jack O' Lanterns project (pg. 5). Even if their motor skills aren't quite there yet, little ones will have a blast choosing the face design for their jack o' lantern and helping you stuff him with crumpled up paper!

For those who are a bit older, there are some fun Halloween activities that are a bit more challenging. For instance, the Mini Coffee Filter Witches (pg. 14) are a great project for children and parents to work on together. Working as a team, you'll be able to create a bunch of these cute flying witches to display all around your house. Mom or Dad can handle the trickier parts (the hat construction, for instance), while kids can practice their painting skills by coloring the witch's outfit and spooky green face!

For older children, those entering middle school and beyond, there are also some more complicated Halloween kids craft ideas to try out. We especially like the Glow in the Dark Trick or Treat Tote (pg. 8) because it's more of a design project than a craft. Older kids can get really creative with the layout and accents on the bag and can turn this project into something really cool!

So no matter what type of Halloween kids craft ideas you're looking for -- no matter the skill level, craft medium or type of project -- there's something for everyone in this collection of fun Halloween activities. We hope you find a craft or two to make as a family this Halloween season and we hope you enjoy the variety of projects included in this eBook of 8 Halloween Kids Craft Ideas! Don't forget to tell your friends and family that they can also download their own free copy too. Help spread the Halloween cheer by passing along these fun Halloween activities!


Also don't forget that with your free copy of the 8 Halloween Kids Craft Ideas eBook you can also subscribe to our Create and Celebrate newsletter and receive a variety of craft projects in your inbox weekly. In subscribing to the newsletter you will receive:

Weekly emails with free holiday-related craft projects, tips, collection pages, videos and more.
New FREE projects made available to you throughout the year.
Access to our free craft library full of more than 500 projects, including ideas for all of the major holidays.
The opportunity to share ideas and help others in the crafting community.



Tags / Related Topics
Your Recently Viewed Projects
Images from other crafters

Love these projects? Get MORE delivered to your Inbox – FREE Click Here!