Fun Easter Crafts: 9 Easter Decorating Ideas
Spring is in the air! Celebrate with the fun and easy Easter decorating ideas in this awesome free eBook!
Flowers are blooming, bunnies are being born, and spring is finally here. After a long, cold winter, everyone is excited to see Easter decorations going up in supermarkets and malls. It's time to get your house in the Easter spirit, too. In this eBook, Fun Easter Crafts: 9 Easter Decorating Ideas, you'll discover an array of different decor that will brighten up your house. From colorful eggs to Easter signs, you'll find many different ways add some color to your home. Easter is a fun holiday that helps usher in spring so open your windows, let the sun in, and start working on these cute decorations today.


Table of Contents
Note from the Editor
Hi Holiday Crafters,

Hop into Easter with these fun Easter decorating ideas!
Easter is a fun holiday that is all about the warm weather. Celebrate the coming of spring with these awesome crafts that celebrate the best parts of spring: bright colors, baby animals, and, of course, Easter candy. These great projects will add much needed color to your house after the long winter. Fun and easy, these projects will be great to do with small children.
Bunnies, eggs, and lambs are staples for all households celebrating Easter, and you will find multiple projects with these themes in this awesome free eBook. Don't let winter bring you down any farther; brighten up your home with these colorful and fun Easter crafts today!
Hoppy Easter,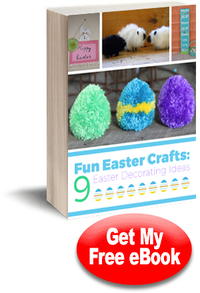 Download your free copy of Fun Easter Crafts: 9 Easter Decorating Ideas today!
What's Inside this Free eBook
Hoppy Easter Wall Hanging (pg. 4) - With this Hoppy Easter Wall Hanging you'll be able to greet your guests with a special message from the bunny himself.

Fluffy Feather Easter Wreath (pg. 7) - This adorable Easter decoration can be put together in just four simple steps with the help of your trusty hot glue gun.

Hippity Hoppity Easter Board (pg. 8) - This durable sign is one decoration you will pull out year after year. With just a few basic materials, you'll be able to make one with ease.

Upcycled Easter Candy Dish (pg. 10) - This unique and fun candy dish serves your favorite Easter candy in a very festive way.
Felting Easter Eggs (pg. 11) - This Easter craft is original and is a beautiful addition to your decorations. Ring in spring with this Easter-inspired felt project and enjoy the phenomenal results.

Perfect Pom Pom Eggs (pg. 15) - This Easter craft idea is a wonderful way to add some soft and sweet holiday decor to your home this season.

Eggshell Mosaic Vase (pg. 20) - Using old egg shells you can turn a plastic jar into an incredible mosaic vase in no time at all. This unqiue and creative Easter decoration is a great way to recycle, too.

Springtime Baby Carrots (pg. 23) - This is one of those Easter ideas that's so creative, you won't believe how simple it is! These Springtime Baby Carrots are not only adorable, but they also don't take a lot of time to make.

Fuzzy Yarn Sheep (pg. 24) - Finding kid-friendly Easter decorating ideas that are as cute as this one can be a challenge, but with the help of this simple tutorial, you're on your way to a fun activity.

Download your free copy of Fun Easter Crafts: 9 Easter Decorating Ideas today!
Commonly Used Materials
All of these crafts will use their own materials, but here are some that you will most likely come across while make these Easter decorations:
Yarn
Glue
Paint (of various colors)
Cardboard
Ribbon
Fabric
Learn more about our Fun Easter Crafts: 9 Easter Decorating Ideas eBook with the video below!
Need Help?
Free holiday craft eBooks are a great source of inspiration when looking to celebrate with DIY projects. Each eBook includes a collection of free projects, typically centered around a particular holiday. Discover holiday craft ideas for every occasion and season with these eBooks. You can easily download and print out each eBook for on-hand reference while crafting.
If you are having trouble downloading our free eBooks, visit our FAQ page here: How to Download Our eBooks.
Don't Miss Our Other Free eBooks!
If you enjoyed this eBook, you won't want to miss any of our other downloadable holiday craft collections. You can browse our entire library of free eBooks here.
Sign up for our Free eNewsletter
With your free copy of Fun Easter Crafts: 9 Easter Decorating Ideas, you can also subscribe to our Create and Celebrate eNewsletter to become part of a community of holiday crafters. In subscribing to the newsletter you will receive:
Weekly emails with free craft projects, tips, collection pages, videos and more.
DIY ideas and inspiration for all of your favorite holidays and occasions, including Valentine's Day, St. Patrick's Day, Easter, and more.
Access to our free project library full of thousands of free craft instructions
The opportunity to share ideas and help others in the crafting community
Be sure to sign up for the Create and Celebrate holiday craft newsletter today so you don't miss another issue!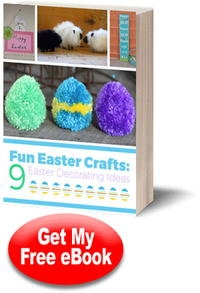 Download your free copy of Fun Easter Crafts: 9 Easter Decorating Ideas today!
Your Recently Viewed Projects