Redwork Winter Twitterings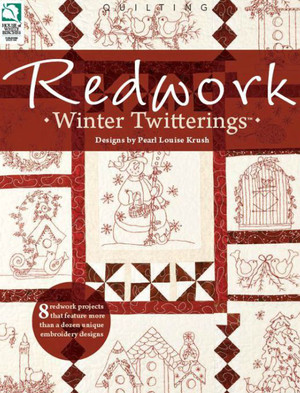 Redwork Winter Twitterings
By Pearl Louise Krush
Gifted by House of White Birches
www.clotilde.com
Reviewed by Kathryn Wright
Embroidery is a beautiful technique that gives you the ability to add a magical little touch of your own creativity to any project you're working on. Once winter gets closer, you'll want to have Redwork Winter Twitterings by Pearl Louise Krush handy, as it includes 8 precious redwork projects that will add a charming sense of holiday spirit to your next sewing project.

Never heard of redwork before? It's simply a particular type of embroidery that involves stitching images onto fabric. If you enjoy needlework of any kind or have always wanted to learn, there's no better place to start. Before jumping into anything, you'll find a few pages dedicated to informing you about embroidery technique. The images in particular will help when it comes to threading your needle properly and finishing everything properly. From there, the book moves on to introduce general projects, such as the "Christmas Twitterings Quilt" (pg. 6). This is like getting two projects in one, because you'll receive the full tutorial for the project itself, as well as examples of how you can decorate it with the embroidery designs provided throughout the book.

Crafters who enjoy needlework are going to appreciate how much variety Redwork Winter Twitterings provides. People are decorating anything and everything during the holiday season, and Krush makes sure not to focus too much on one particular location or project type when it comes to design. The book has home decor patterns, ways to customize clothing, and even a few ways you can turn the patterns themselves into part of your Christmas decorating. Have the happiest of holidays by filling your home with Christmas cheer in the form of lovely little embroidery designs.
Enter to win Redwork Winter Twitterings from 12/10/2014 to 12/23/2014.
Your Recently Viewed Projects